Congratulations to Landon Potter! Landon is our November Student of the Month. Way to go, Landon!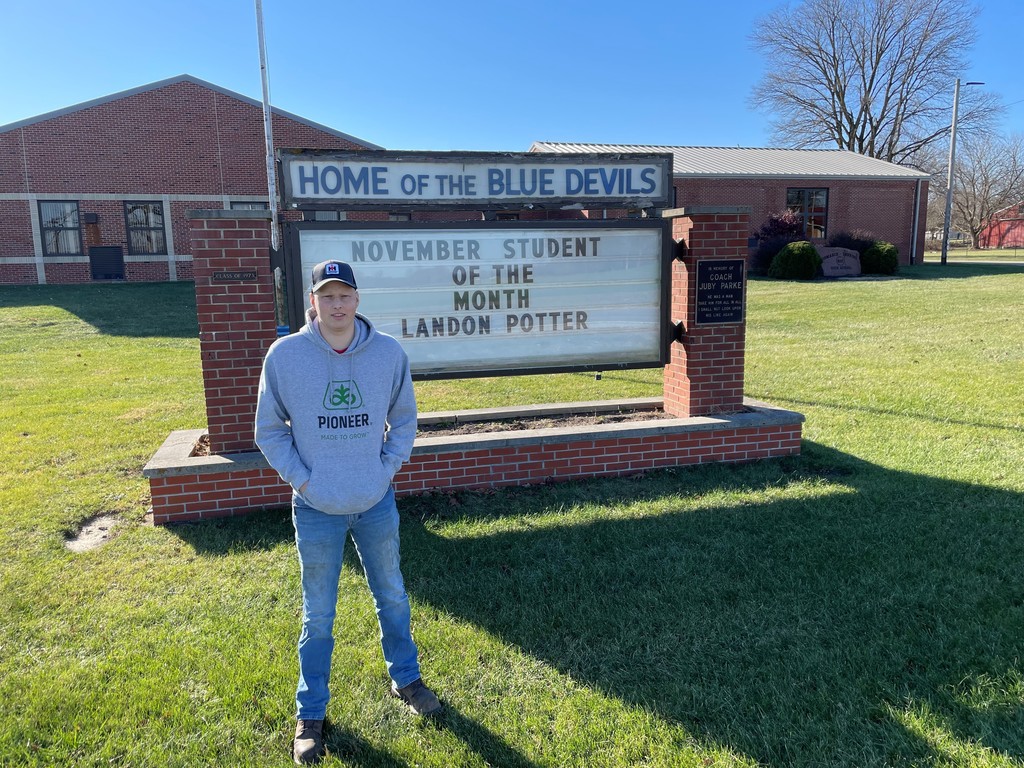 Calling all parents of kindergarten-5th graders! If you are looking for a one-of-a-kind Christmas gift, consider registering them for Camp Invention 2023. This is an engaging, high energy week of STEM fun that will take place June 26th-June 30th here in Bismarck led by some of our own amazing teachers. Sign up today to save $35 AND be entered to win free registration! You do NOT need to be a student of BH to register. More information:
https://5il.co/1l2y4
To Register:
https://invent-web.ungerboeck.com/programsearch/moreinfo.aspx?event=39645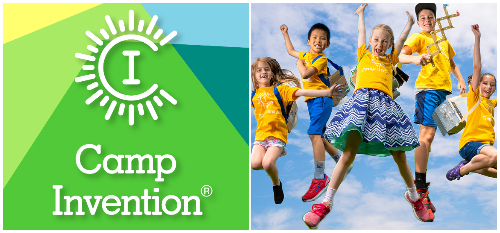 Blue Devil Apparel orders are due Thursday! You can order through the online store through midnight Thursday night, but paper order forms need to be in the high school office by 3:30pm on Thursday. Thank you for your support! Proceeds will be used by BHRA Student Council to purchase gifts for families that need help. Paper Form:
https://5il.co/1k1jt
Online Store:
https://bhraapparel.itemorder.com/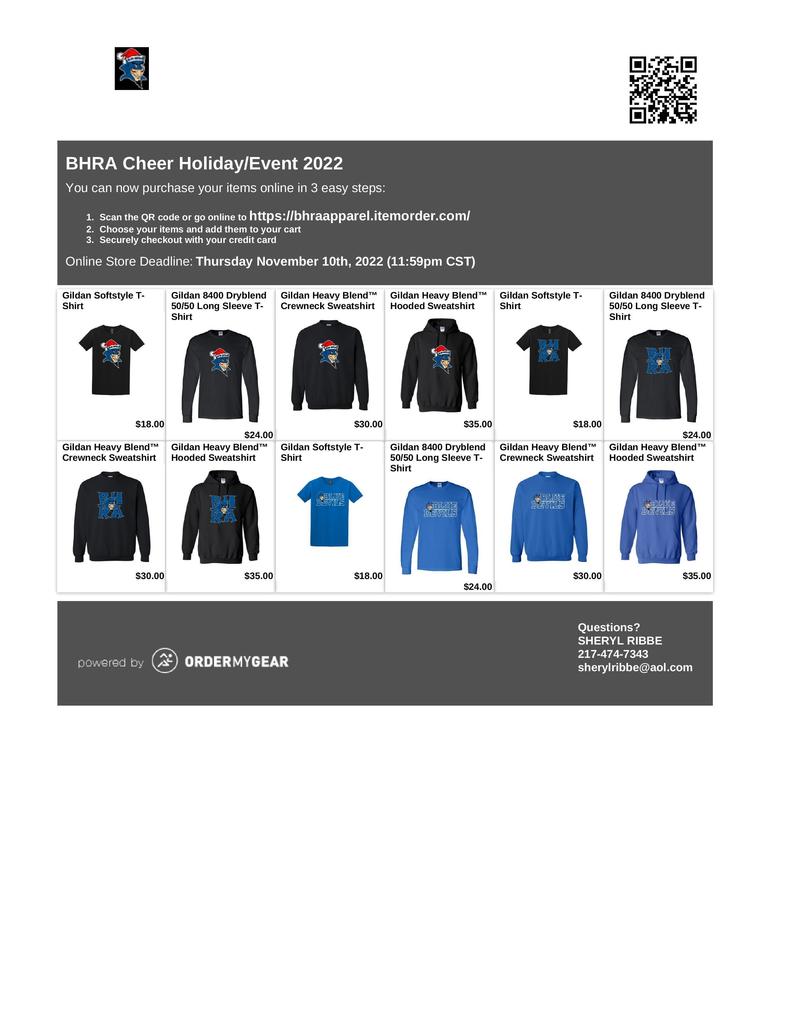 Don't forget to get out and vote today! BHES/BHJH & BHRA are closed today.

Your Blue Devils host Westville TONIGHT at 7pm for IHSA 2A Playoffs Round 1! Admission is $5 for everyone - No passes Listen on 94.9 K-ROCK and 99.5 WITY Watch on NFHS Network Eat at the best concession stand in the county and support our athletics & clubs through the Blue Devil Booster Club! Just a reminder - normal game rules apply: NO pets NO footballs, baseballs, frisbees, etc Enjoy the game!

Check out this Blue Devil Apparel on sale now! Proceeds from this apparel order will be used by BHRA Student Council to purchase gifts for students in our community in need. Apparel will be delivered right after Thanksgiving!
https://bhraapparel.itemorder.com/shop/home/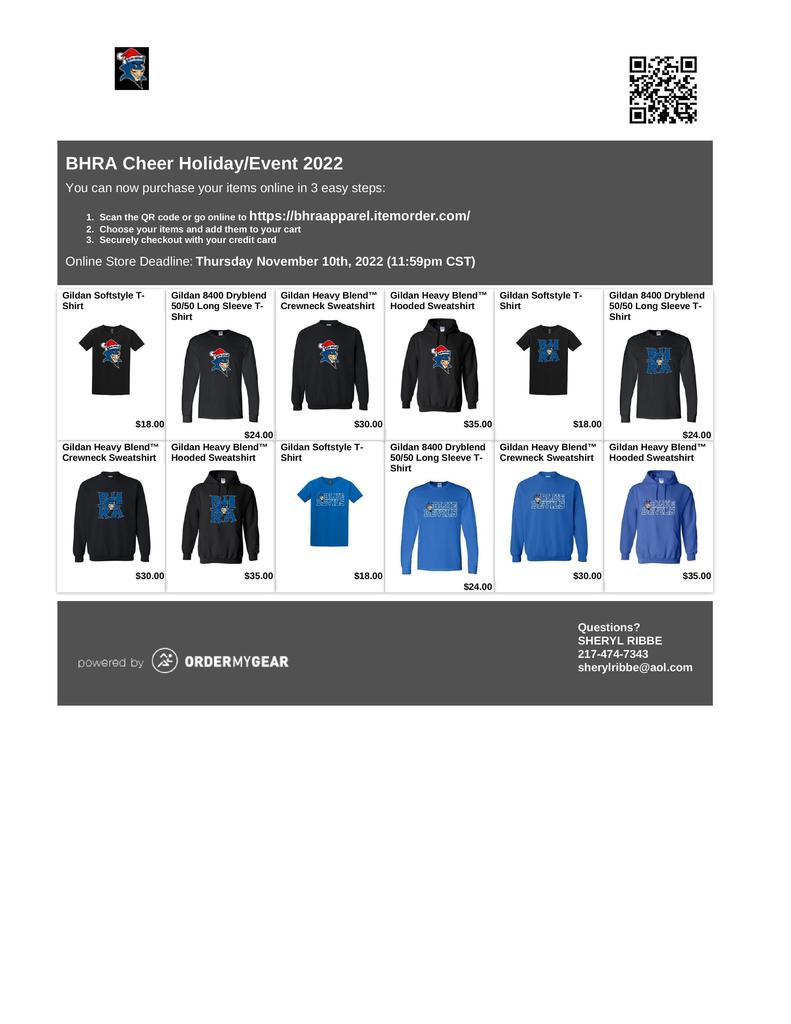 Thank you Blue Devil fans and Westville Tiger Fans! We appreciate all the food and monetary donations at the WCIA Tackle Hunger food drive tonight benefiting the Eastern IL Food Bank. Not only did we receive a LOT of food donations, your monetary donations were outstanding! In our Cash Dash alone we raised $965 in 1-minute!!! Fantastic! Our total raised all night was over $1,200.00. Thank you so much for jumping in and help us fight hunger in Central Illinois!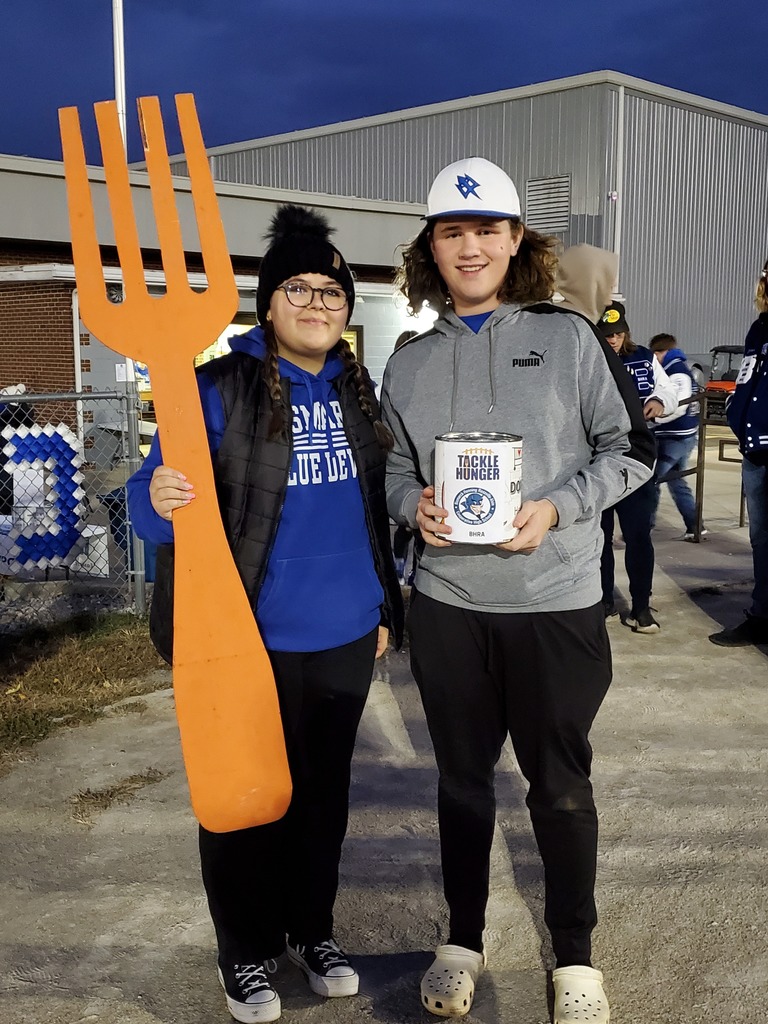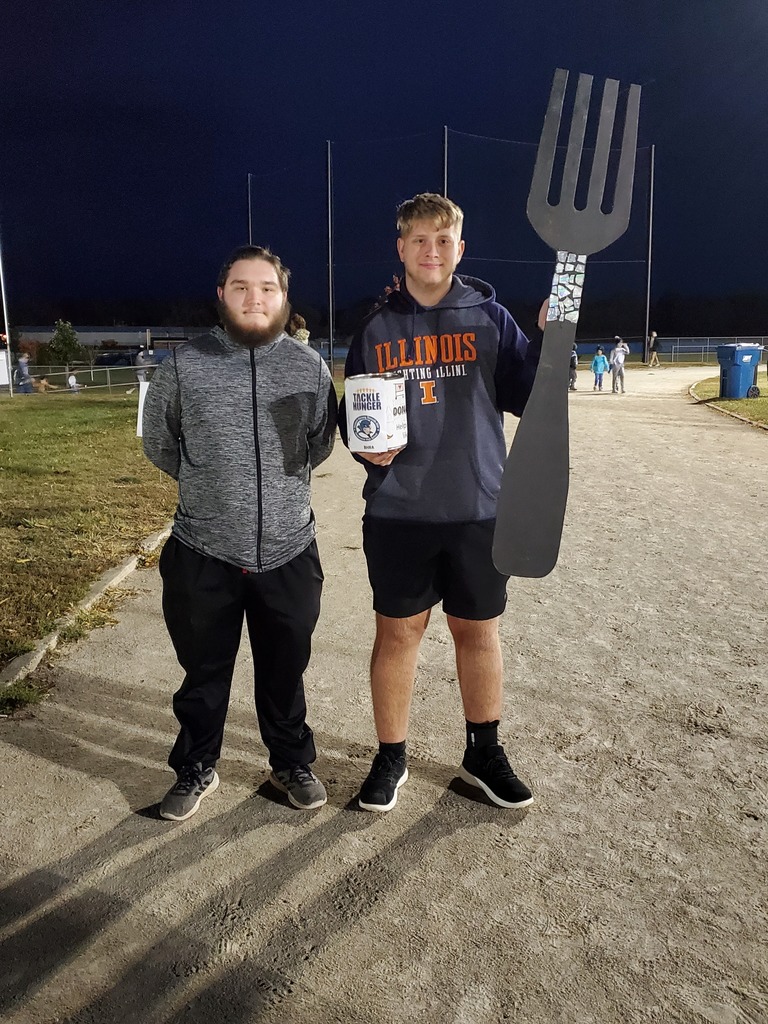 Calling all BHRA Blue Devil Fans and Westville Tiger Fans! Friday night's game is WCIA's Tackle Hunger Game of the Week! We have been tasked to bring as many non-perishable food items as we can. If you'd rather donate cash, there will be a place for that, too. A cash dash will happen between the 1st & 2nd quarter where we will try to raise as much cash for Eastern IL Foodbank as we can in 1 quick minute! Thank you for supporting the Eastern IL Foodbank and helping us Tackle Hunger in Central Illinois! We'll see you Friday! Kickoff is at 7pm.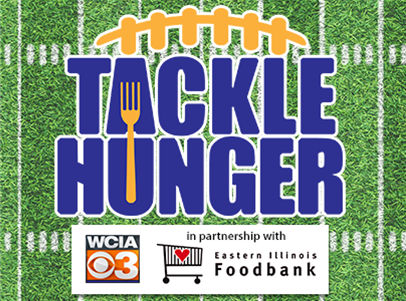 It's Game Day! Go Blue Devils! Full concession stand by the BHRA Blue Devil Booster Club! Special tonight - Chicken & Noodles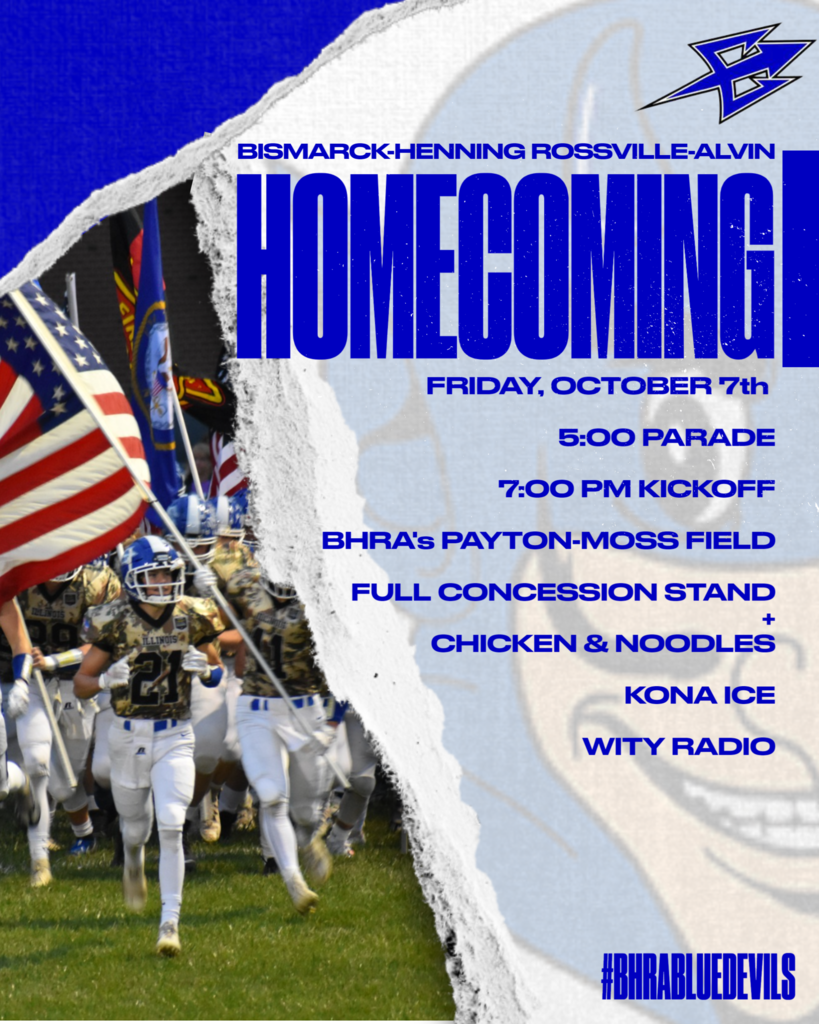 Speech Pathologist Assistant Wanted Requirements: High School Diploma/Para pro Certificate Application:
https://5il.co/oeit
Please direct all questions and applications to Mr. Scott Watson at 217-759-7261 or
swatson@bismarck.k12.il.us
.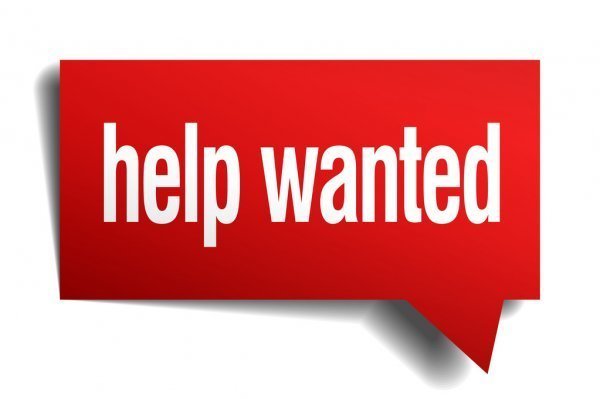 All parents/guardians, teachers, and grandparents are invited to BHRA's Wilcox Gym on Thurs, Oct 13th for a 'Keeping Our Kids Cyber Safe' presentation. Detective Richard Wistocki, a High Technology Cyber Crimes Specialist, will be presenting. Don't forget to bring your devices!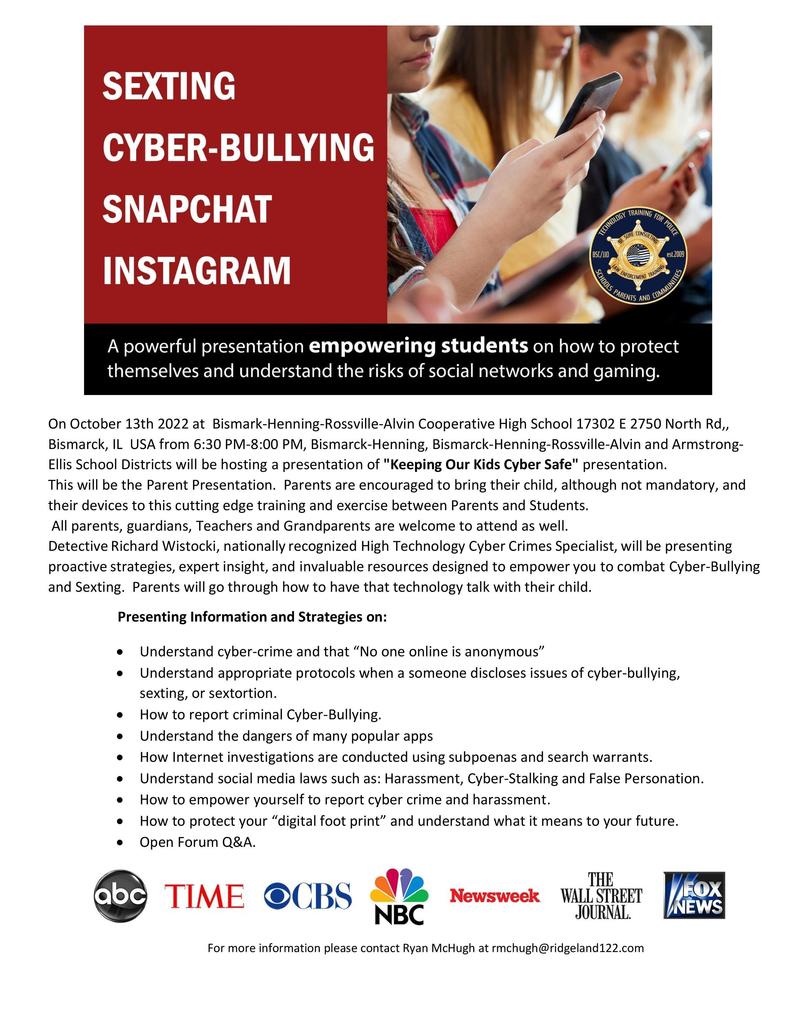 Homecoming Week Food Drive!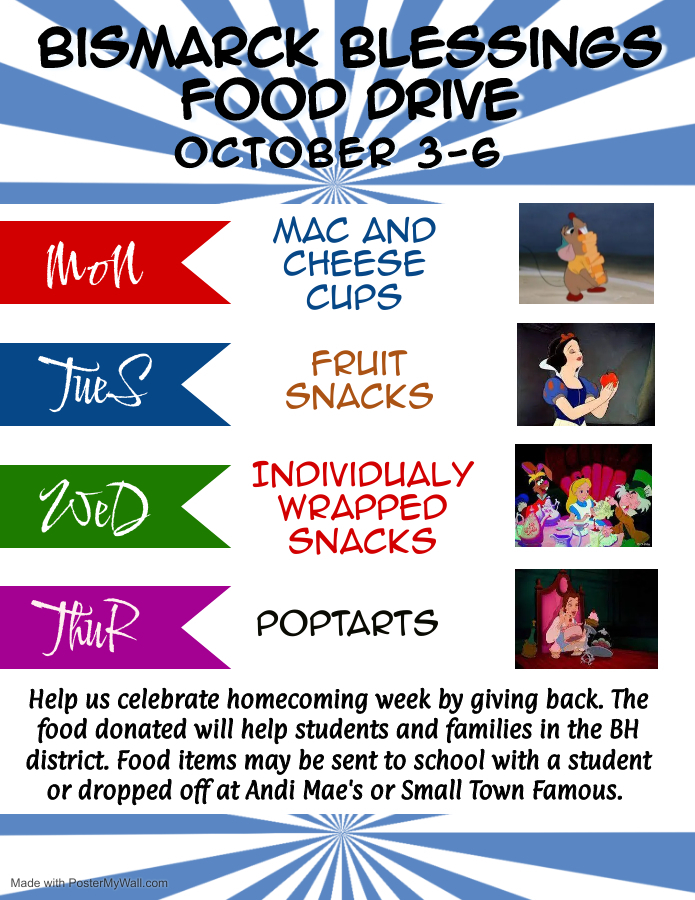 A big thank you to Pete Powell and the IL Patriot Guard Riders for lining our school with American Flags in anticipation of our Patriot Day Game tomorrow! Our 3rd hour PE, Strength, & Study Hall classes did an amazing job helping! It's a beautiful sight! THANK YOU!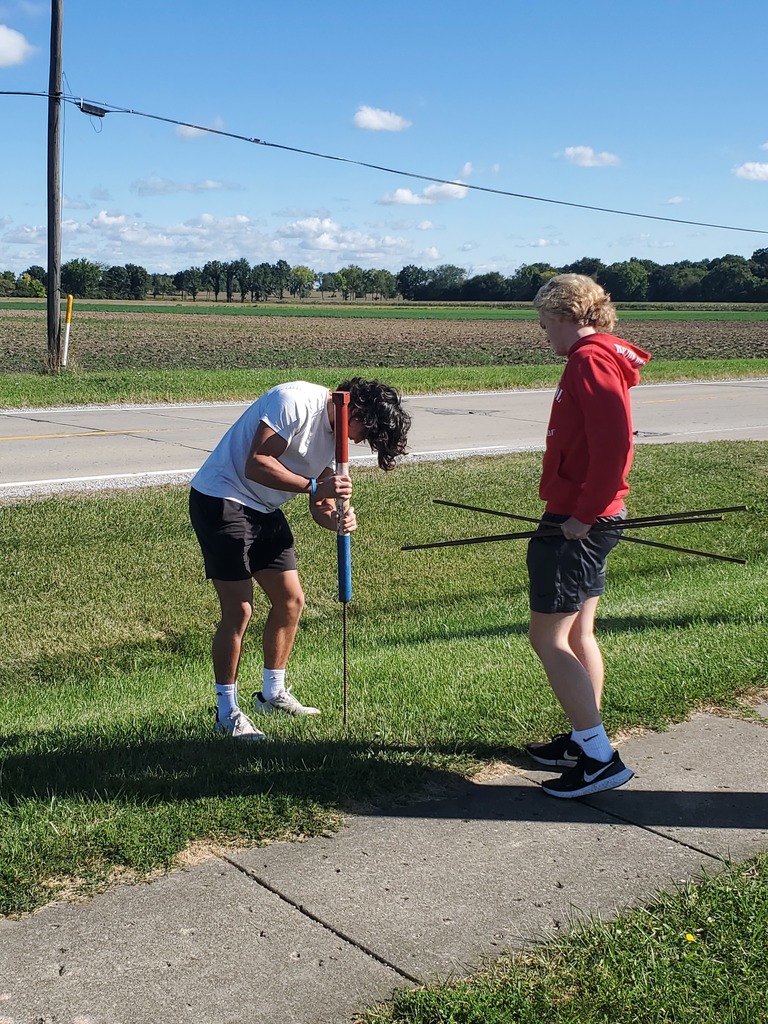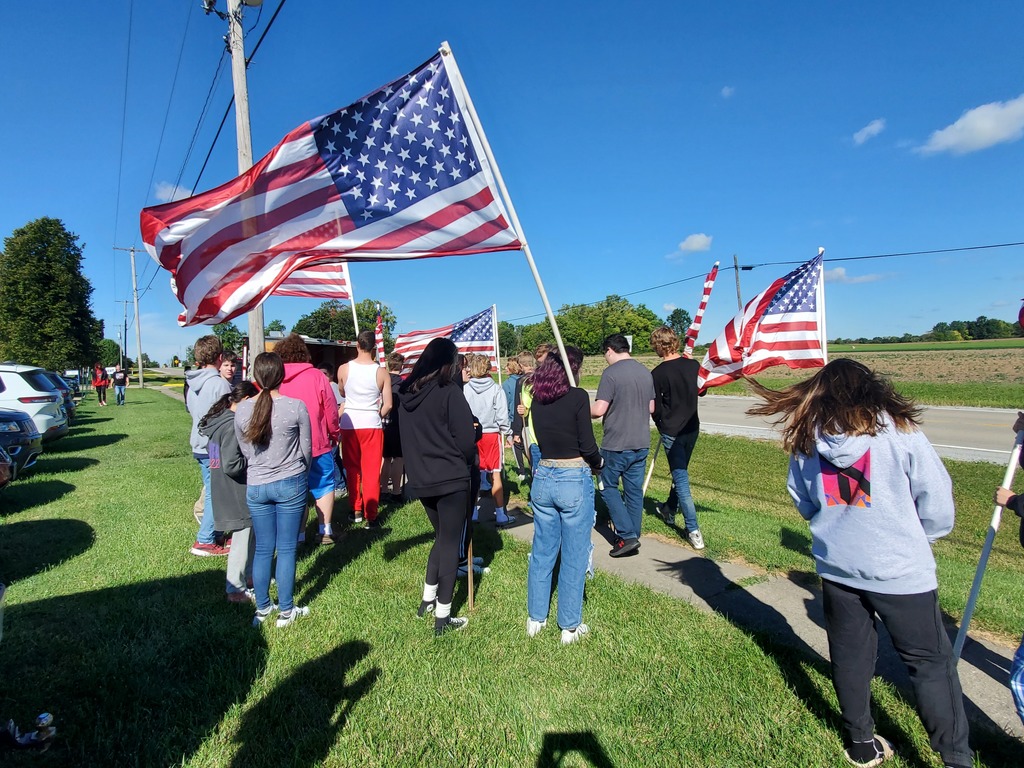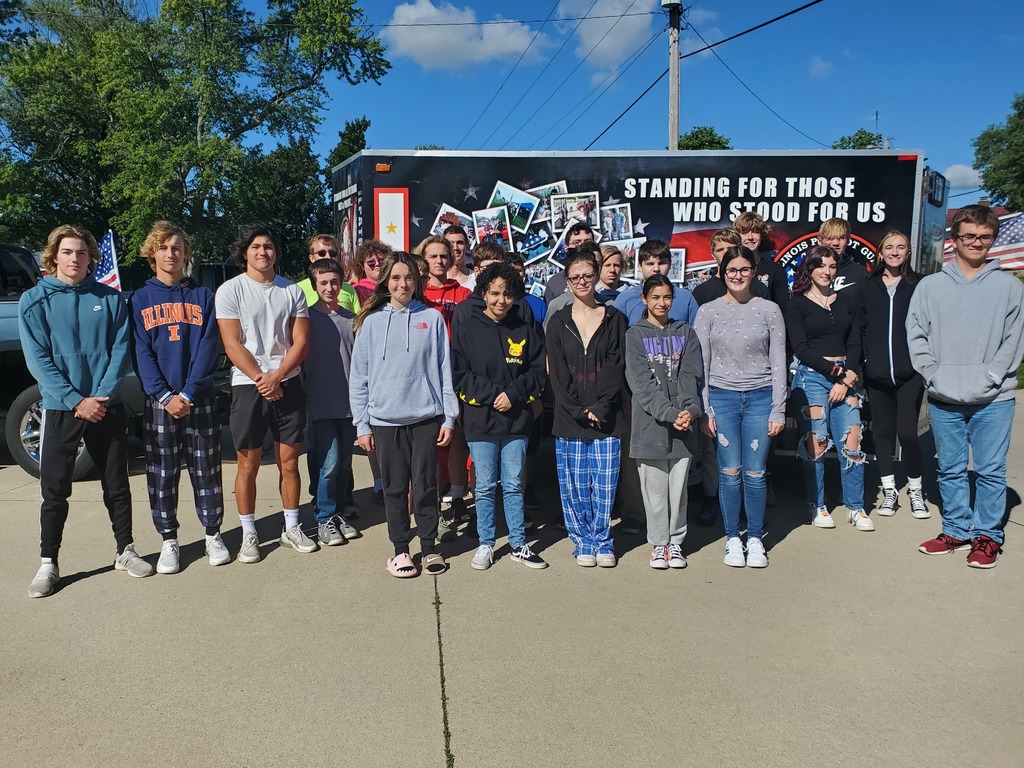 Aide Position open at BHES. Please submit application & resume to Mr. Sean Click as soon as possible. Application Link:
https://5il.co/oeit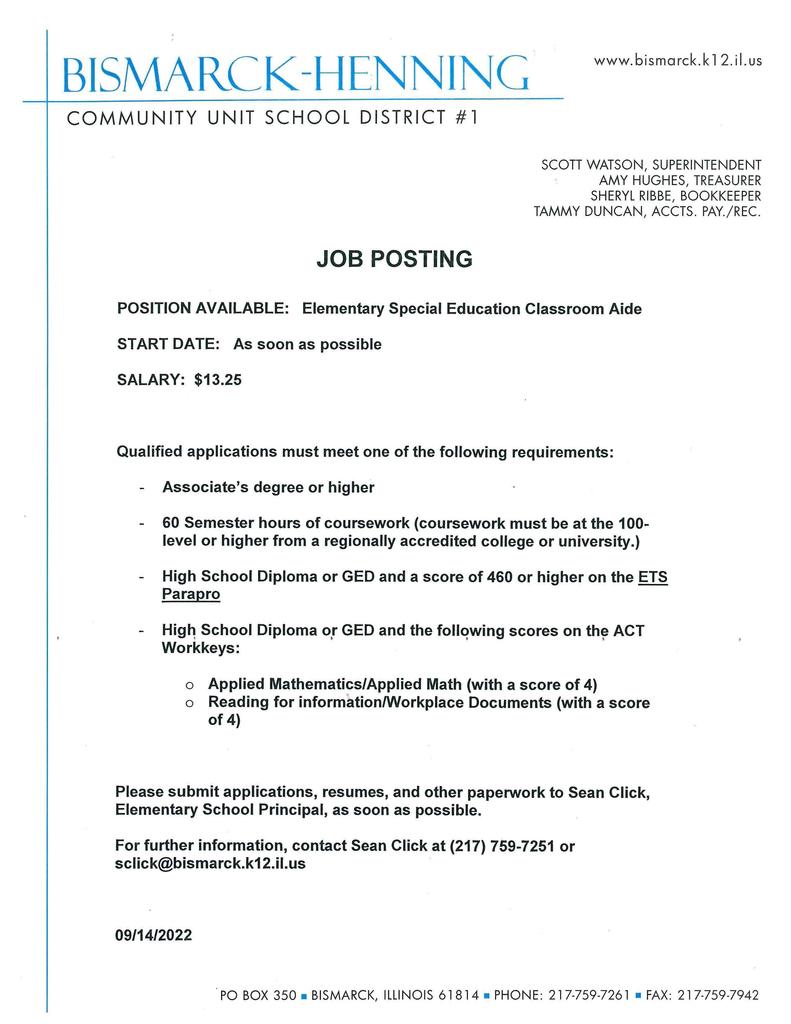 BHJH has an opening for a secretary. Please contact Ms. Lindsey Prunkard for more information. Application can be found here:
https://5il.co/oeit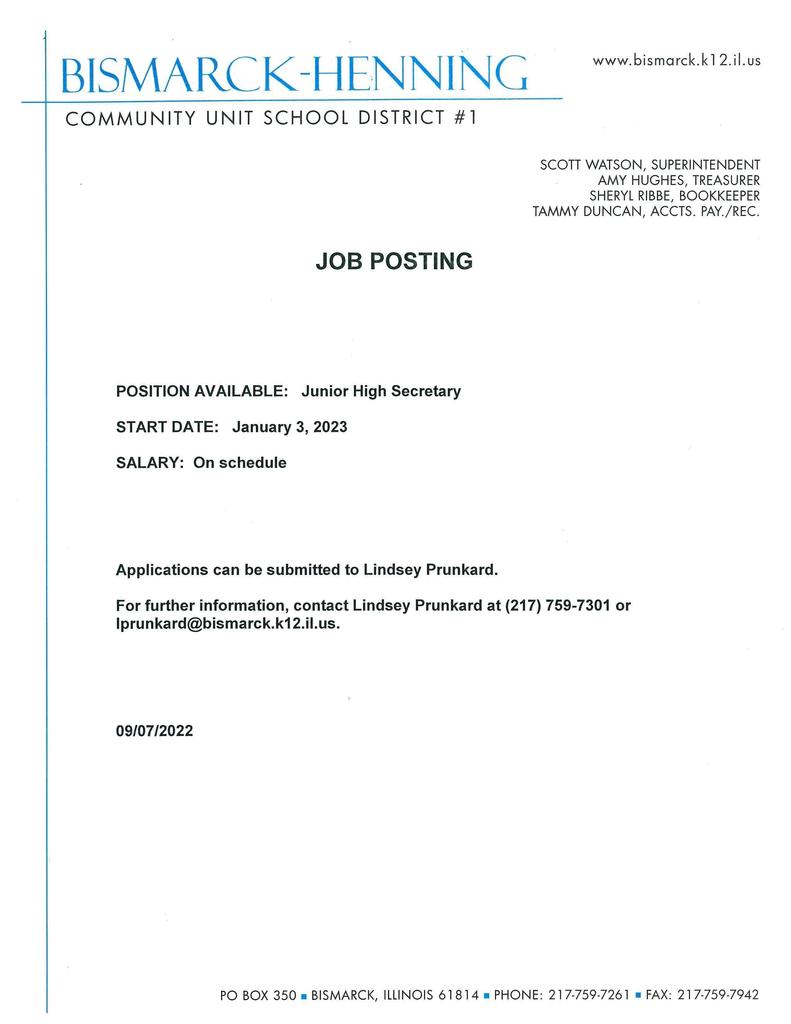 Congratulations to Tayelor Lowe! Tayelor is our September Student of the Month winner! Tayelor was nominated for her positive outlook and helpful nature. Other nominees include Izzy Solis, Chess Seyfert, Owen Miller, and JJ Solis. Way to go!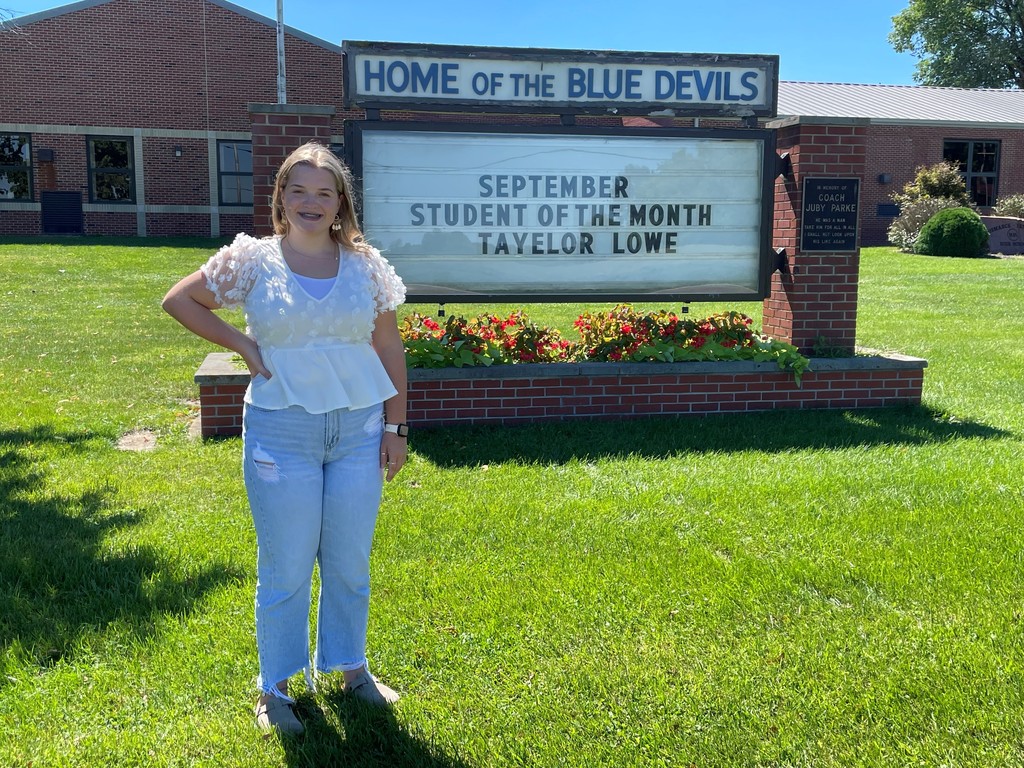 Join the Devilettes at Culver from 5pm-8pm on Tuesday Sept 6th. 20% of all sales will come back to help them with uniforms. You must bring in one of these coupons or show it on your phone for your order to count. See you there! Print:
https://5il.co/1h6jq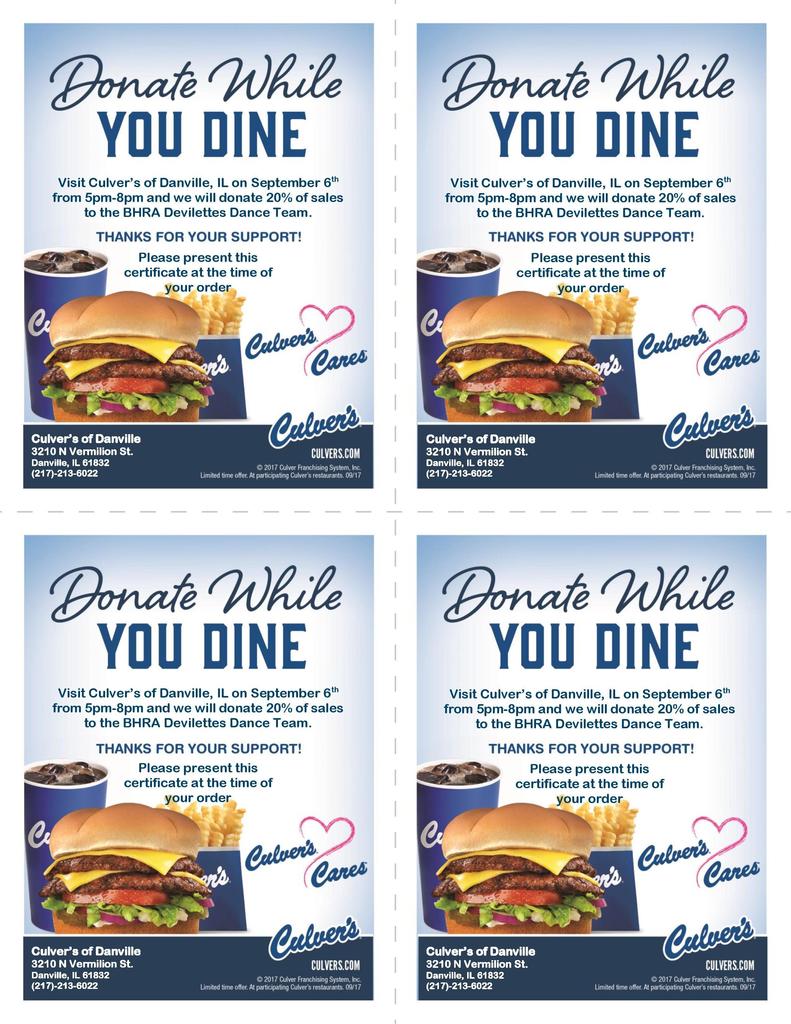 As Fall athletics are in full swing, this is just a quick reminder that the only place to stream BHRA athletics is the NFHS Network. We receive a lot of SPAM links throughout our social media, these are not safe. NFHS is the only place to stream.