Speech Pathologist Assistant Wanted Requirements: High School Diploma/Para pro Certificate Application:
https://5il.co/oeit
Please direct all questions and applications to Mr. Scott Watson at 217-759-7261 or
swatson@bismarck.k12.il.us
.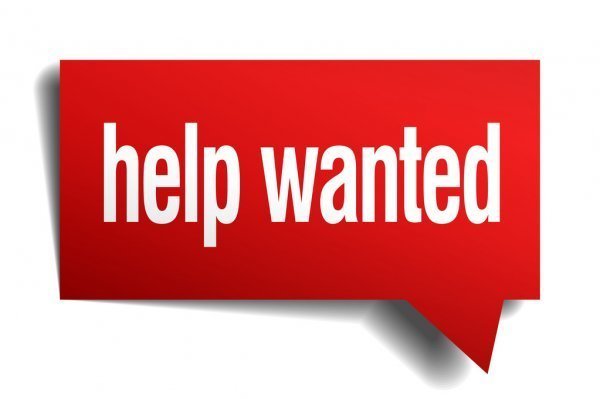 All parents/guardians, teachers, and grandparents are invited to BHRA's Wilcox Gym on Thurs, Oct 13th for a 'Keeping Our Kids Cyber Safe' presentation. Detective Richard Wistocki, a High Technology Cyber Crimes Specialist, will be presenting. Don't forget to bring your devices!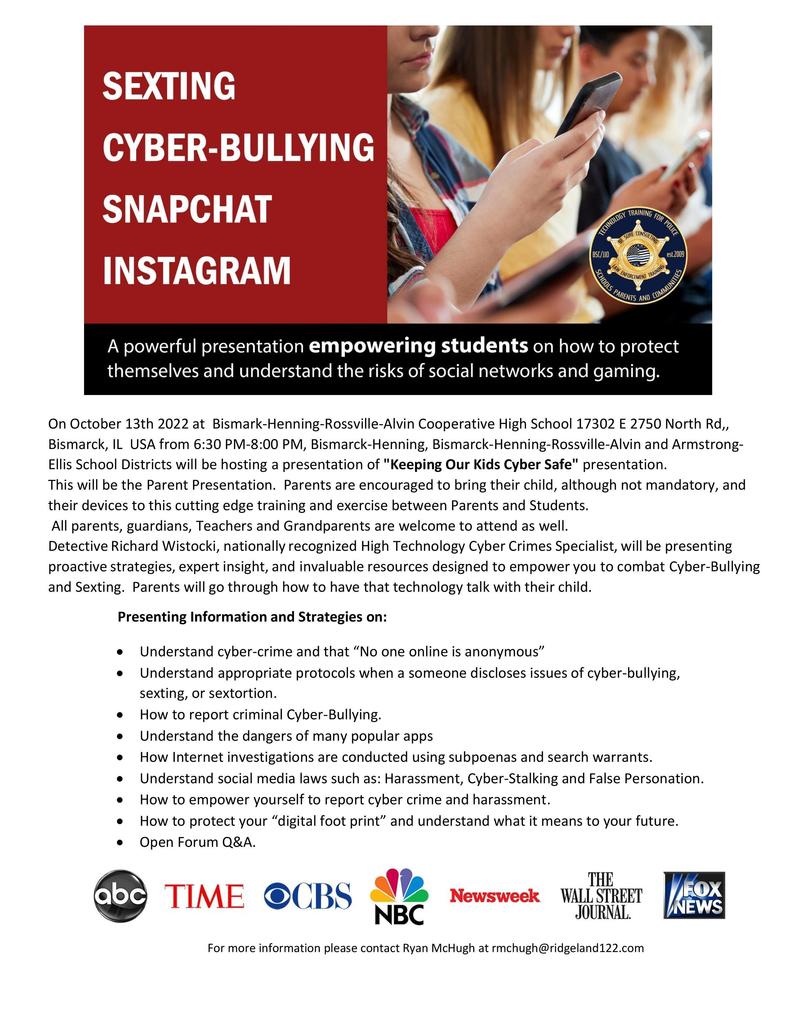 Homecoming Week Food Drive!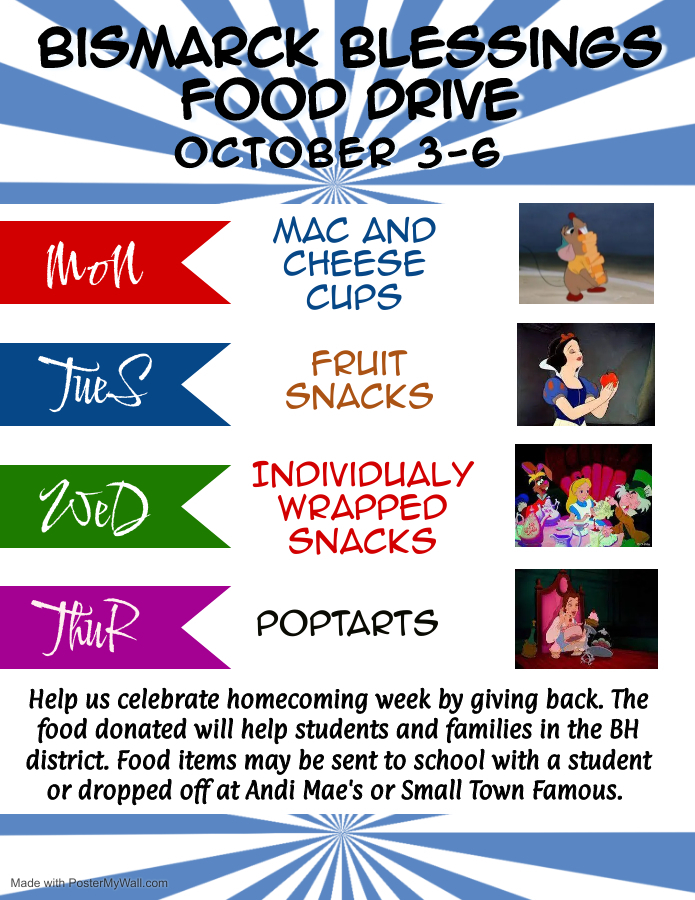 A big thank you to Pete Powell and the IL Patriot Guard Riders for lining our school with American Flags in anticipation of our Patriot Day Game tomorrow! Our 3rd hour PE, Strength, & Study Hall classes did an amazing job helping! It's a beautiful sight! THANK YOU!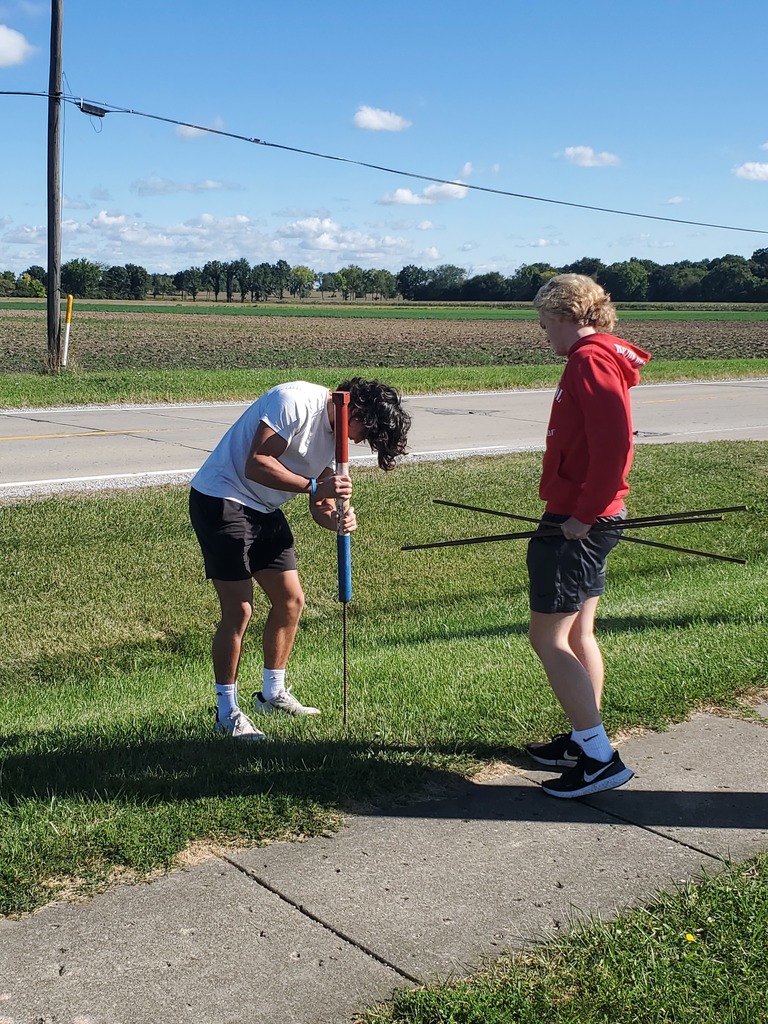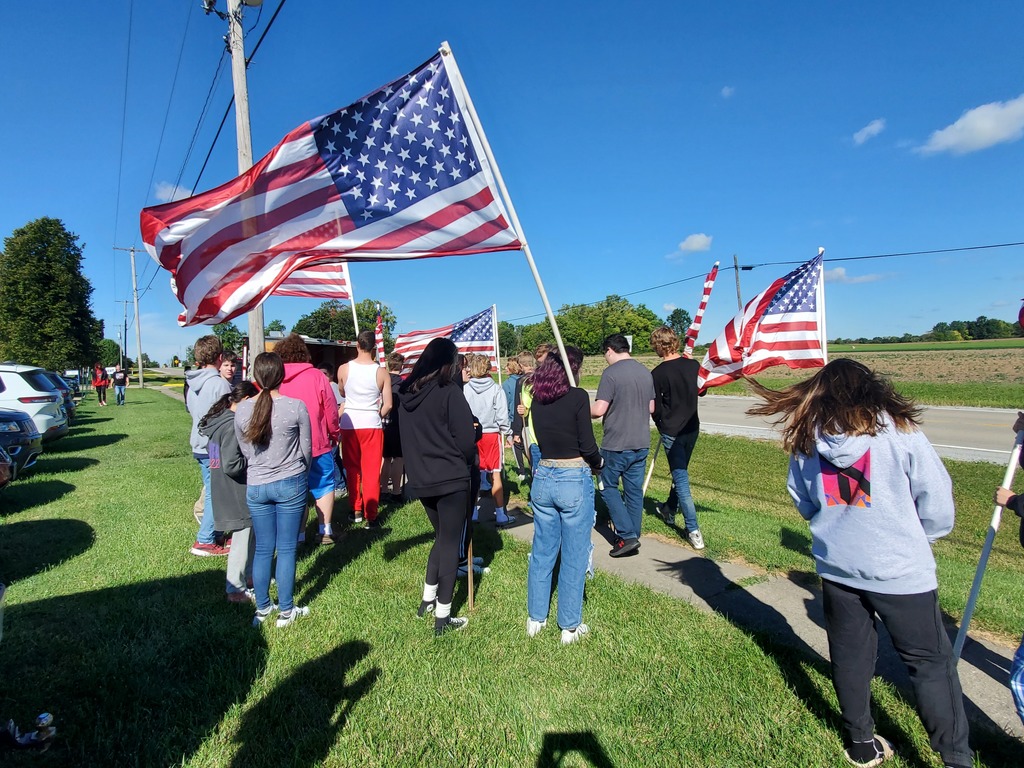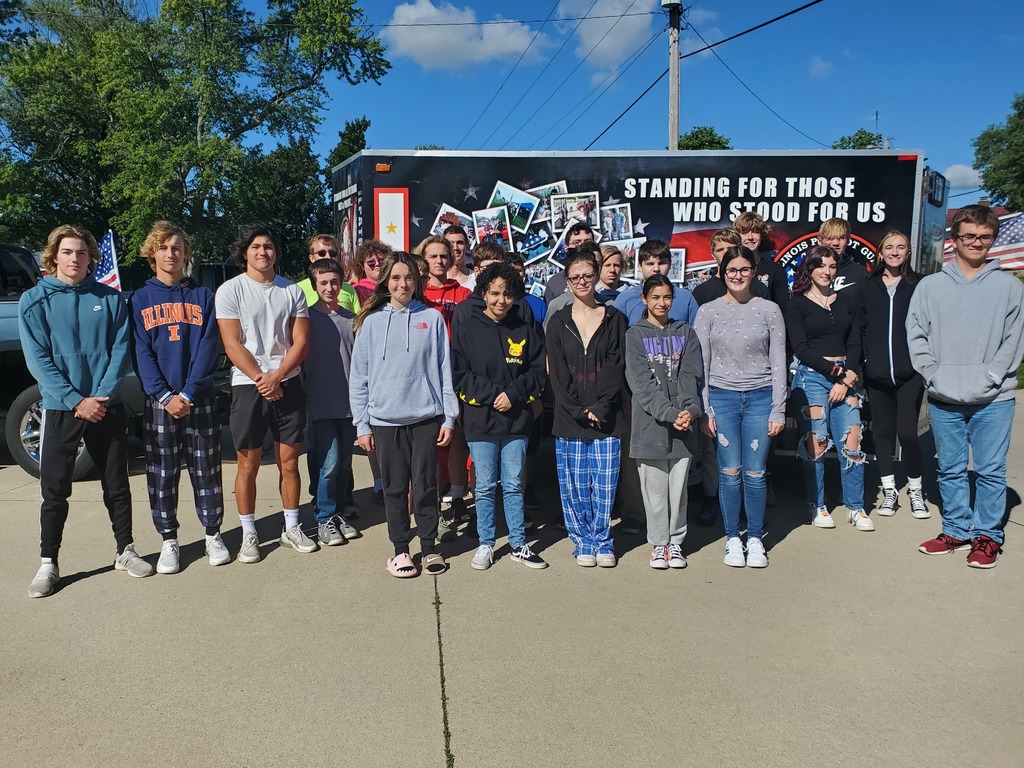 Aide Position open at BHES. Please submit application & resume to Mr. Sean Click as soon as possible. Application Link:
https://5il.co/oeit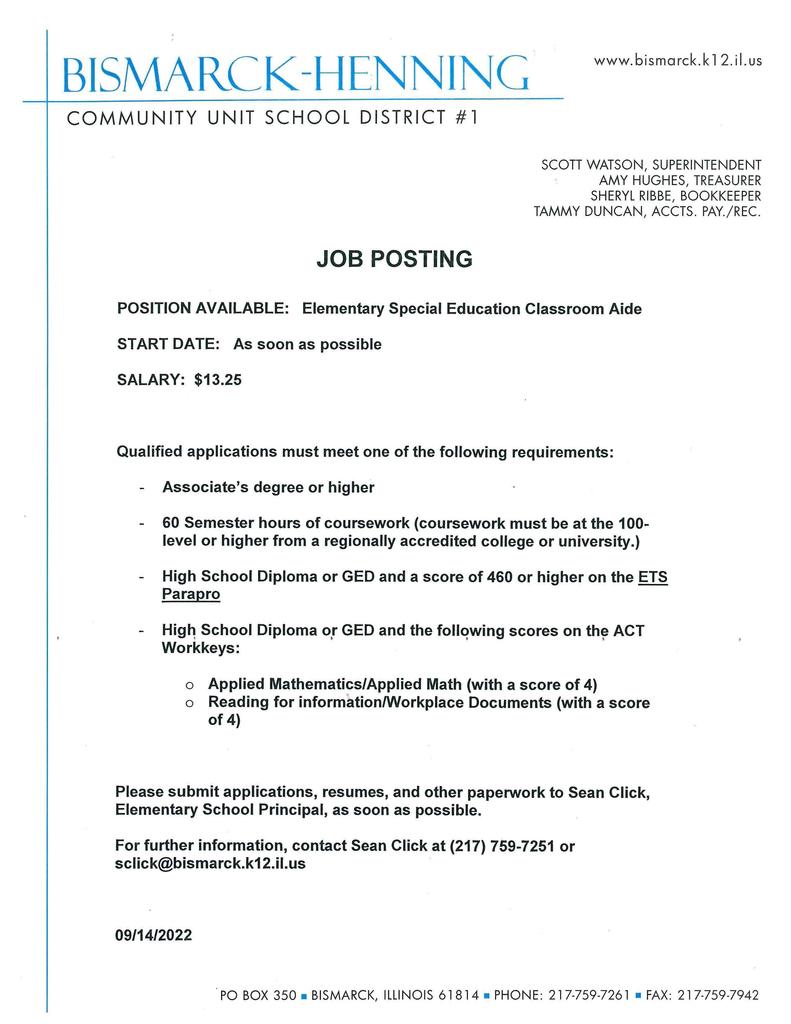 BHJH has an opening for a secretary. Please contact Ms. Lindsey Prunkard for more information. Application can be found here:
https://5il.co/oeit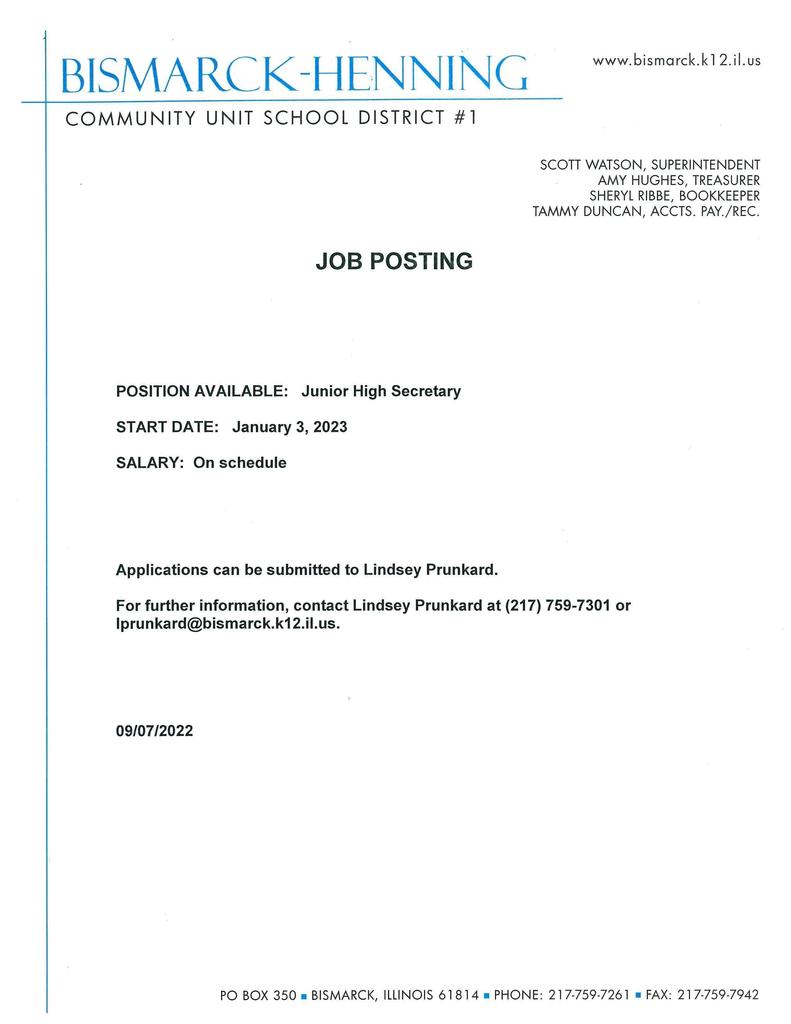 Congratulations to Tayelor Lowe! Tayelor is our September Student of the Month winner! Tayelor was nominated for her positive outlook and helpful nature. Other nominees include Izzy Solis, Chess Seyfert, Owen Miller, and JJ Solis. Way to go!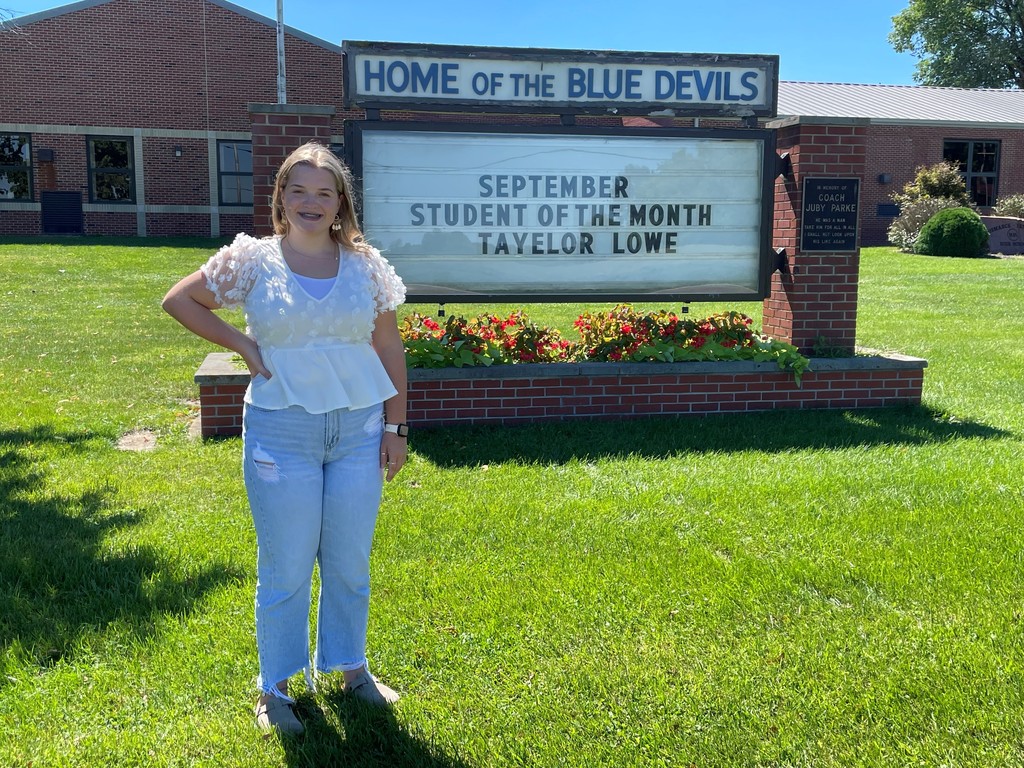 Join the Devilettes at Culver from 5pm-8pm on Tuesday Sept 6th. 20% of all sales will come back to help them with uniforms. You must bring in one of these coupons or show it on your phone for your order to count. See you there! Print:
https://5il.co/1h6jq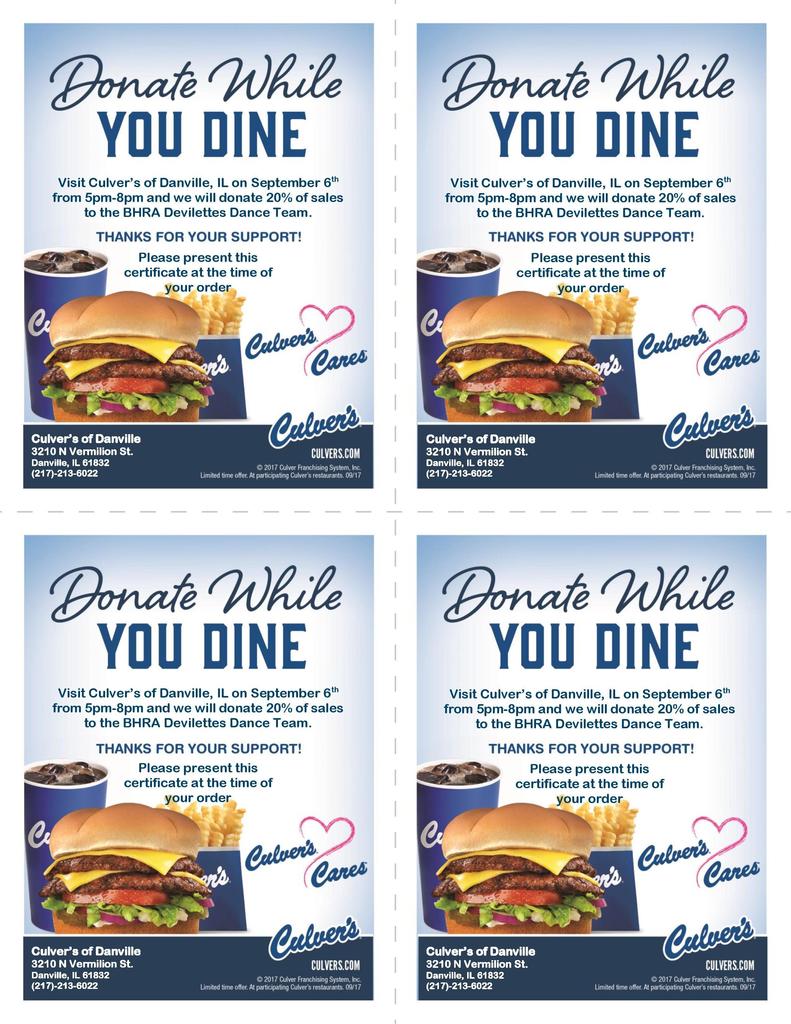 As Fall athletics are in full swing, this is just a quick reminder that the only place to stream BHRA athletics is the NFHS Network. We receive a lot of SPAM links throughout our social media, these are not safe. NFHS is the only place to stream.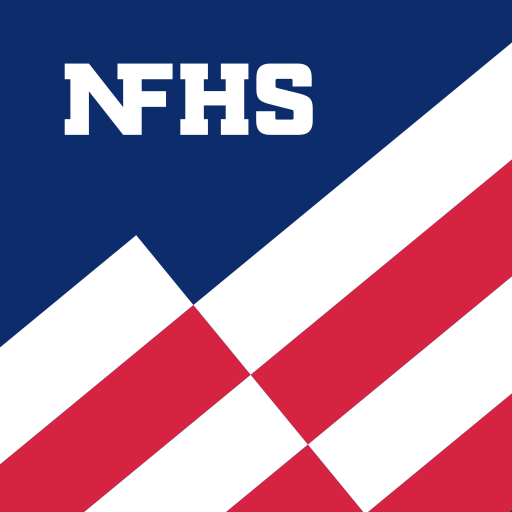 ALL THINGS PATRIOT DAY! SHIRT DEADLINE: SAT 9/3 @ 6PM Order Online: honorguard2022.itemorder.com/ Paper Form:
https://5il.co/1gfcp
Paper forms can be dropped off at the gates Saturday during the game or sent to the high school office. Help us line the field with flags! Purchase through 9/23! Flag Order Form:
https://5il.co/1hcol
Forms can be dropped off to the high school office or the gates of home football games. 50/50 Golf Ball Drop Raffle - Purchase through the game on 9/23! Tickets are $5/ea or 5/$20 Raffle tickets can be purchased at BHRA office, BHRA home games or at OHS! Drop will be Saturday, Sept 24th - need not be present to win! Help us raise $$ for Operation Honor Guard!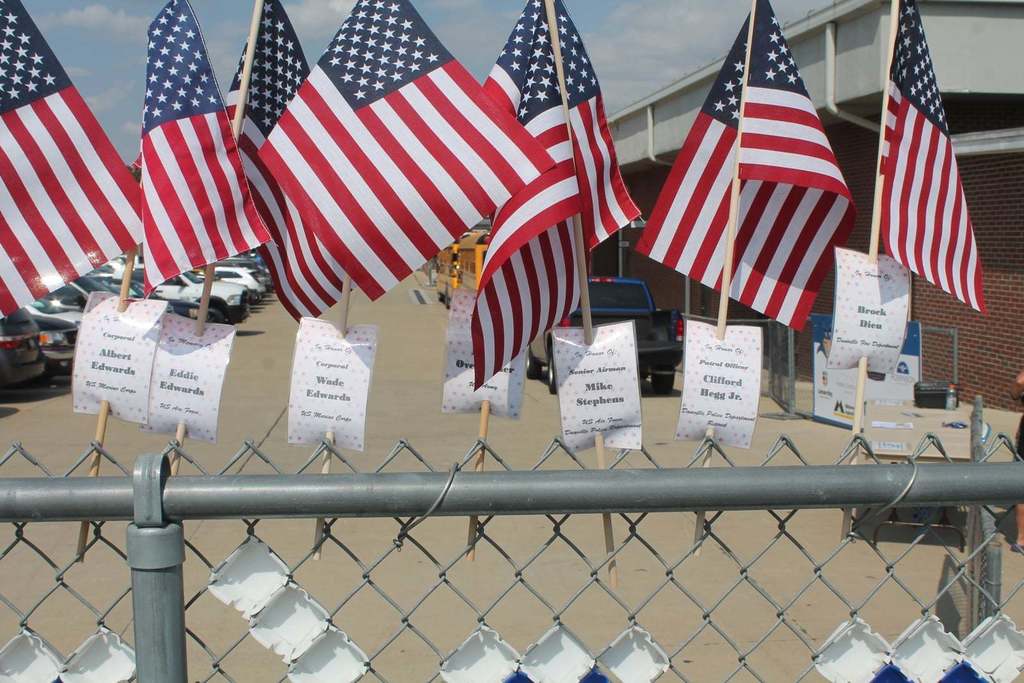 BHES September Menu Printable:
https://5il.co/1h8e3
Don't forget you can find the menu on the website and our app!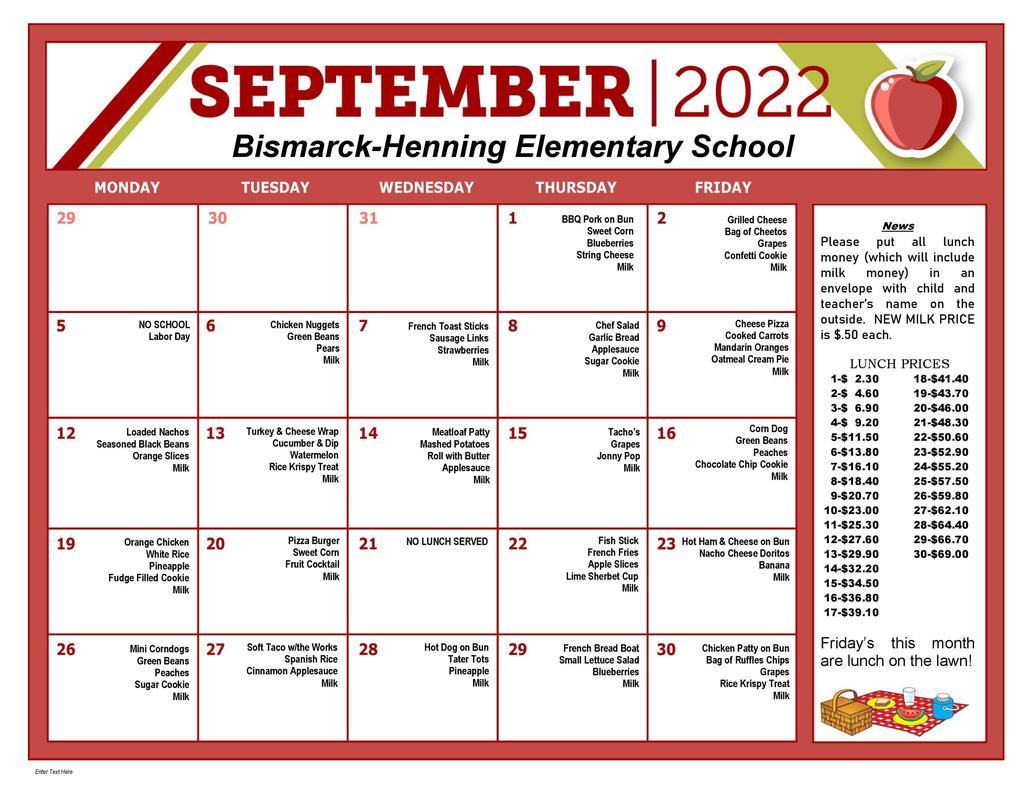 BHJH - BHRA Menu for Sept 2022. Printable:
https://5il.co/1h6hf
Don't forget, you can always find the menu on our website and our app!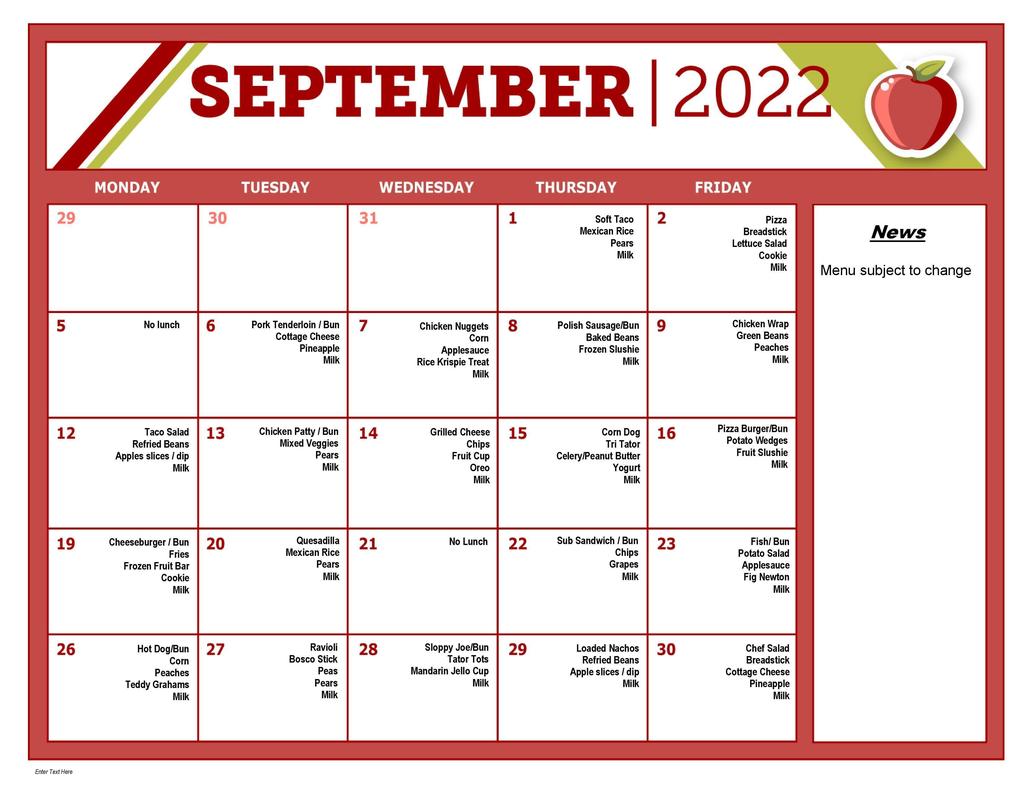 Picture day is Monday for BHES, BHJH & BHRA. To order your student's pictures, please go to
https://inter-state.com/order
and enter the corresponding code below. BHES - 68810R BHJH - 68796D BHRA - 68806NA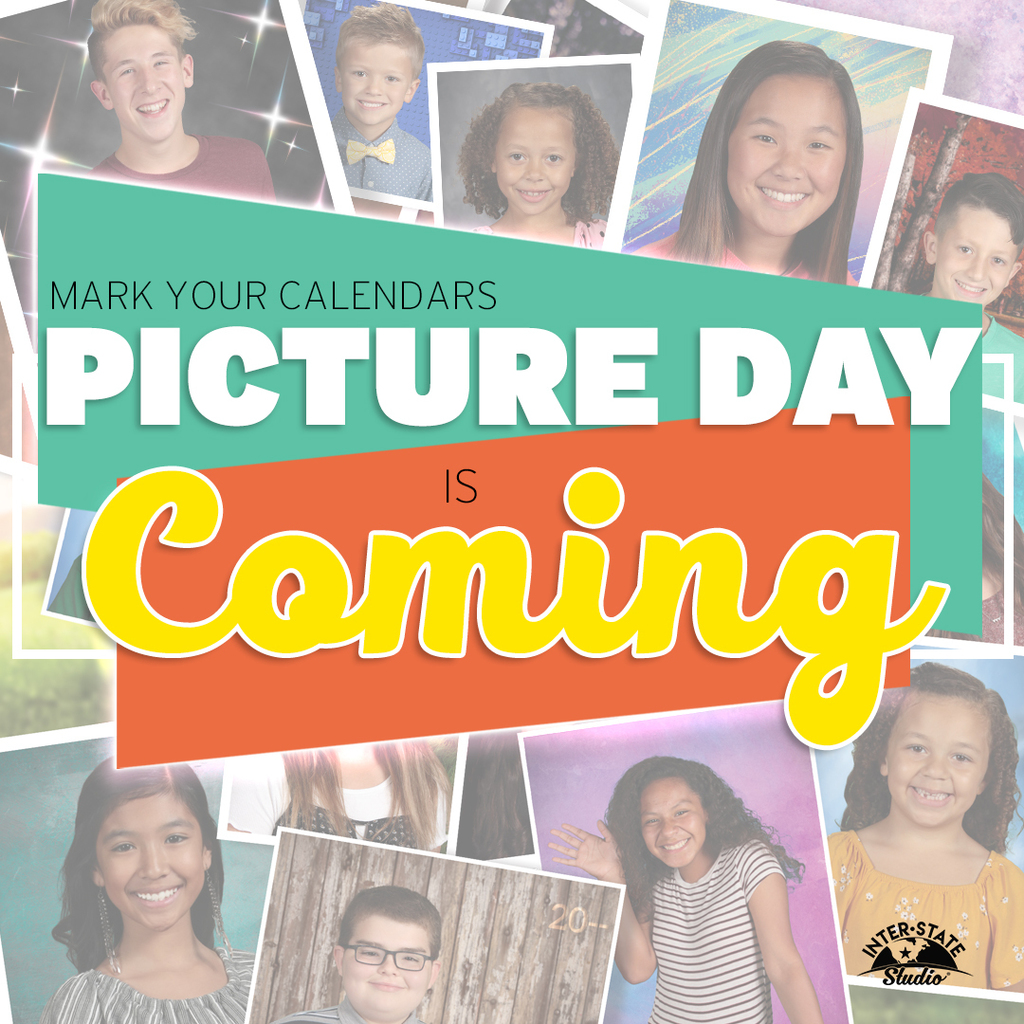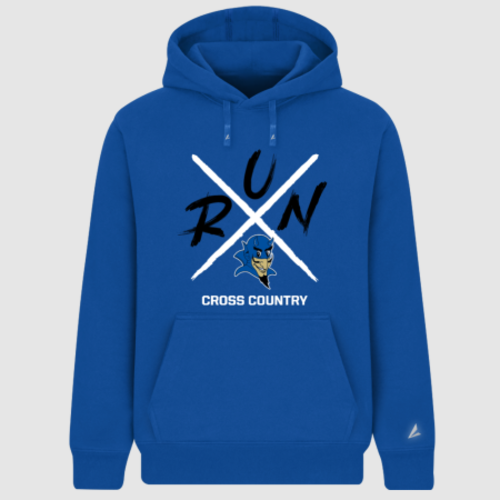 A giant shout out to our custodial staff for all their hardwork this summer (and everyday)! We appreciate you all SO MUCH! Not pictured: Dave

We need bus drivers! If interested, contact Tammy Duncan at 217-759-7261. We can help you get licensed!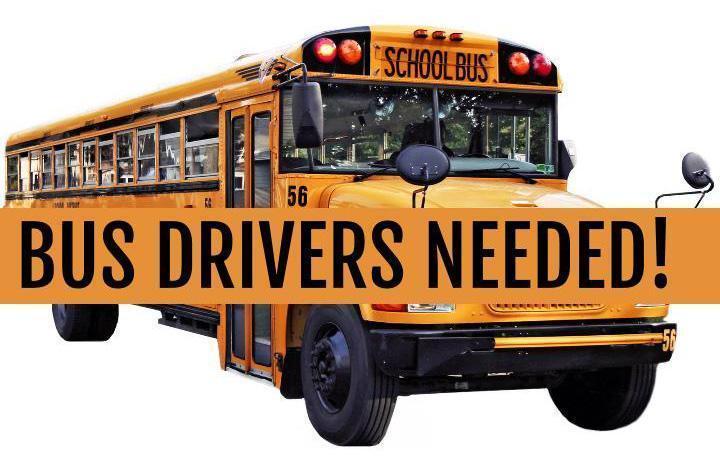 1966-67 BHHS Wrestling Team at the first Bismarck Invitational Wrestling Tournament. January 1967. 1st row L-R. Harold Adams, Bob Creek, Don Troutman, Larry Moss, Randy Van Vickle, David Starling 2nd row L-R David Troutman, Steve Lane, Clem Leaver, Tom Connor, Henry Britton, Lew Lane, Duane Knoepfel. Out of 12 weights, Bismarck took 8 individual championships. Howard Hartman was not in photo. Fun history: This was only the third year of wrestling at BHS. 3 coaches in 3 years. We credit in 64/65 Larry Brethorst, the Football coach to encourage school board /administrators to start a Wrestling team, a tough road in a basketball dominated school and county with Danville the only wrestling team. We were given a small budget with a cover wrapped around tumbling mats. We had to go long distances in and out of state to find schools. This was before the Illinois enrollment class system so were against much larger programs. We learned the hard way. Before the 65/66 season we lost coach Brethhorst and assumed the team was done. Fortunately, Dan Winland a grade school teacher and outstanding Danville wrestler and college wrestler stepped in. Big turn around. He set it up for us to co- practice with Danville. They were great to work with. Dan also took some of us to school day exhibitions in most of the county schools to promote the true sport of wrestling. We had a good season, unfortunately, DJC ( DACC ) started Wrestling and Danny accepted the coaching position. Here we go again. According to Jim Richards he was approached by Lloyd Champion to take the Bismarck position. Jim had no wrestling experience and reluctantly took the job and glad he did. He wrestled with the older guys to learn the moves. We finished the year 9-7, not great but we were still wrestling the big schools. This photo was the culmination of that year. We beat out Unity and St. Joe for the title. The following year 67/68 as schools added wrestling the team went 16-2 and the program was off and running into a great future. Thank you Larry Moss for the picture and information! On another note, BHRA is so excited to have BHRA Alumni Cody Miller join us as the head wrestling coach! We are so excited to have him and see what's in store for the Blue Devil Wrestling Program! Welcome Cody!!!!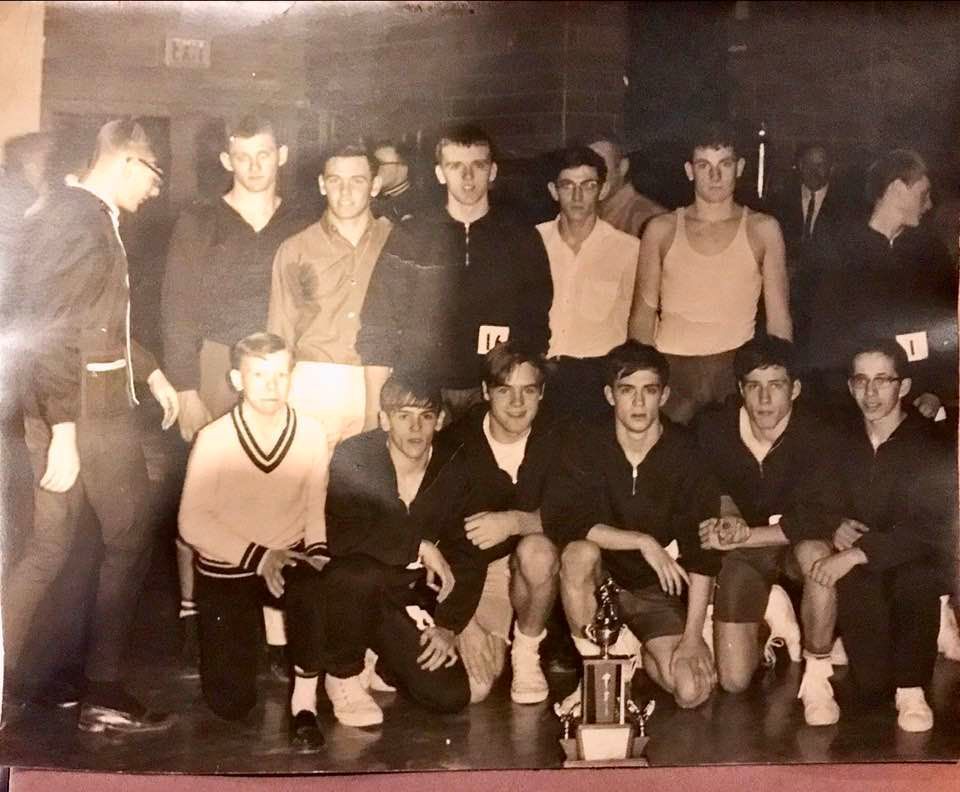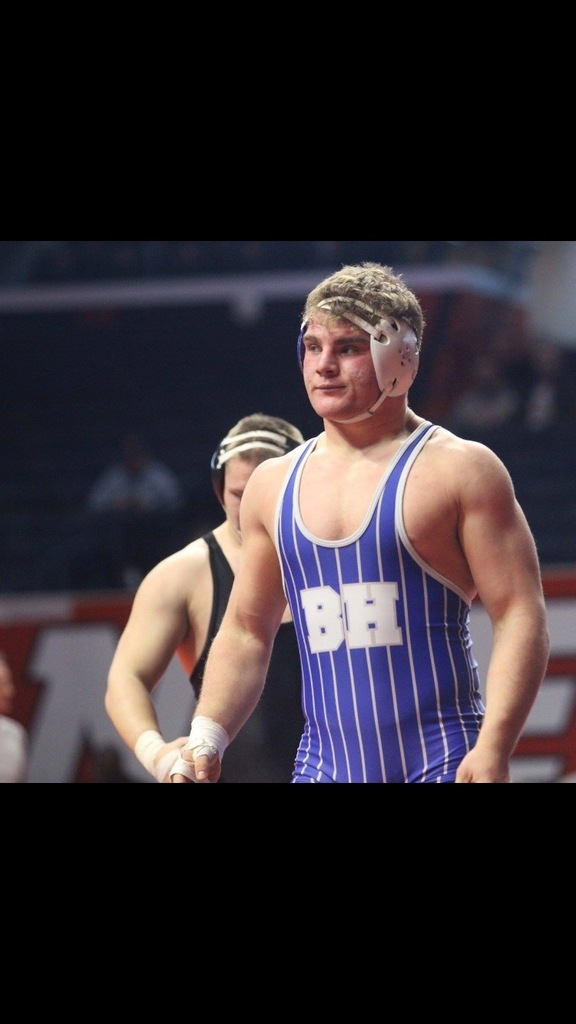 BHCUSD #1 is looking for a Director or Technology. Please contact Mr. Scott Watson to apply.