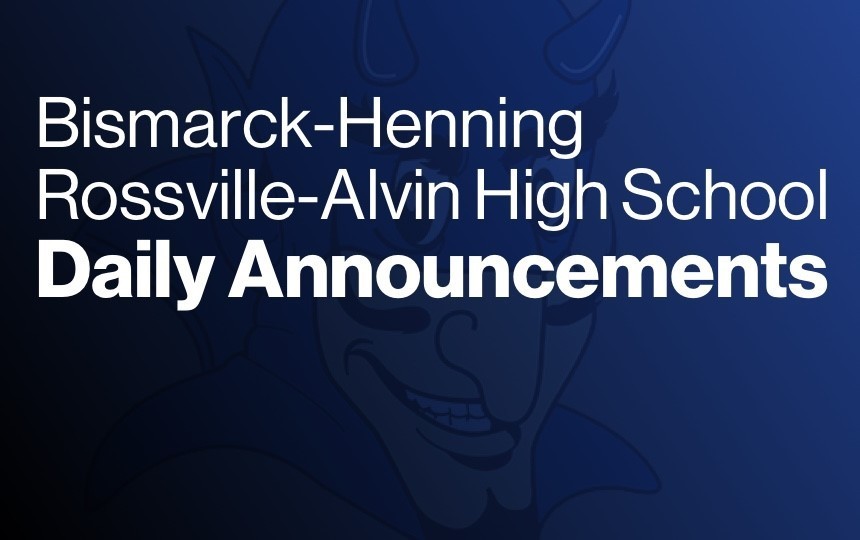 2020-09-16 BHRA Announcements
Jenny Huffman
Wednesday, September 16, 2020
Bismarck-Henning Rossville-Alvin Cooperative High School Daily Announcements Wednesday, September 16th, 2020
Announcements:
Student Council Officers
Congratulations to the Student Council Officers for this year! President - Ariana Card, Vice-President - Morgan Miller, Secretary - Amanda Brown, Treasurer - Grace Omundson, and Historian - Parker Stonecipher
Class Officer Voting
All students: please check your email for your chance to vote for class officers. The email will be coming from one of your class sponsors.
Athletics
Monday night the Blue Devil Golf team won their Tri-Match against Westville & Salt Fork. Leading the way for the Blue Devils was Rance Bryant - 39 followed by Leighton Meeker - 47 and Izaiah Lusk & Carson Darby rounding out the top 4 with a 49. The Blue Devils host Mahomet-Seymour and Urbana tonight!
From Nurse Kelly
If you have had your 9th grade physical or your 12th grade MCV shot, please bring a copy to the nurse's office.
From Mrs. Stephens
Juniors and Seniors - U of I Springfield has set up a virtual meeting for BHRA juniors and seniors Sept. 18th (remote learning day) at 11:30. Take advantage of this opportunity to learn more about admission to UIS and what programs/opportunities they offer. This will be a meeting for BHRA students only.

Zoom Session with Admissions Counselor Carly Leffel - Join Zoom Meeting
Meeting ID: 929 7179 3950
Password: 502497

Seniors -- A representative from ISAC will be doing a Financial Aid presentation through Zoom this Thursday at 3:00pm. You and your parents are encouraged to join to prepare for filing the FAFSA. See your email or join the Class of 2021 Google Classroom for a link to the meeting.
E-Learning Days
Mrs. Gray put together an awesome video showing you how to mark yourself present on an elearning day. Check it out HERE!
Friday is our first e-learning day. Students will not be in the building, but attending class remotely from 8am-11am. Each class will be different, so be sure to check your classes and with your teachers to see if you need to be LIVE online at any specific time.
Students will also need to login to www.teacherease.com and check-in for the day to be counted PRESENT for the day. If you do not login to Teacherease, it will count as an absence.

Need access to your student Teacherease account? Reply to this email and Jenny will send you a link.
Blue Devil Thursday
Wear your extreme blue & white on Thursday for Spirit Day!
Chromebook Tech Tips
Contacts:
Office Staff:
Please feel free to email us if we can help you with anything. You can also call the office at 217-759-7291. If we don't answer, please leave us a message.
Nurse Kelly (kstrader@bismarck.k12.il.us) Social Worker (Ms. Wilt - wiltt@vase.k12.il.us)
Guidance Counselor (Mrs. Stephens - mstephens@bismarck.k12.il.us)
Links:
Here's What's Coming:
09-16-20 - 4:00pm - Varsity Golf @ Harrison Park vs Mahomet-Seymour & Urbana High School
09-17-20 - 4:00pm - Varsity Golf @ Harrison Park vs Schlarman
09-18-20 - E-Learning Day 8am-11am
09-18-20 - TBD - Varsity Golf @ Hoopeston Area High School
09-19-20 - TBD - Cross Country @ Decatur St. Teresa
09-19-20 - 8:30am - Varsity Golf - Paris Invitational
09-25-20 - Progress Reports
10-02-20 - E-Learning Day 8am-11am
10-09-20 - No School - Fall Institute
10-12-20 - No School - Columbus Day
10-14-20 - SAT
10-16-20 - Semester Midterm
10-21-20 - Progress Reports
10-21-20 - P/T Conferences 4pm-8pm
10-22-20 - P/T Conferences 4pm-8pm
10-23-20 - No School
10-27-20 - Tues - Picture Retakes - inter-state.com/order - Code 51357HA
02-12-21 - Senior Pictures due to Mrs. Stephens