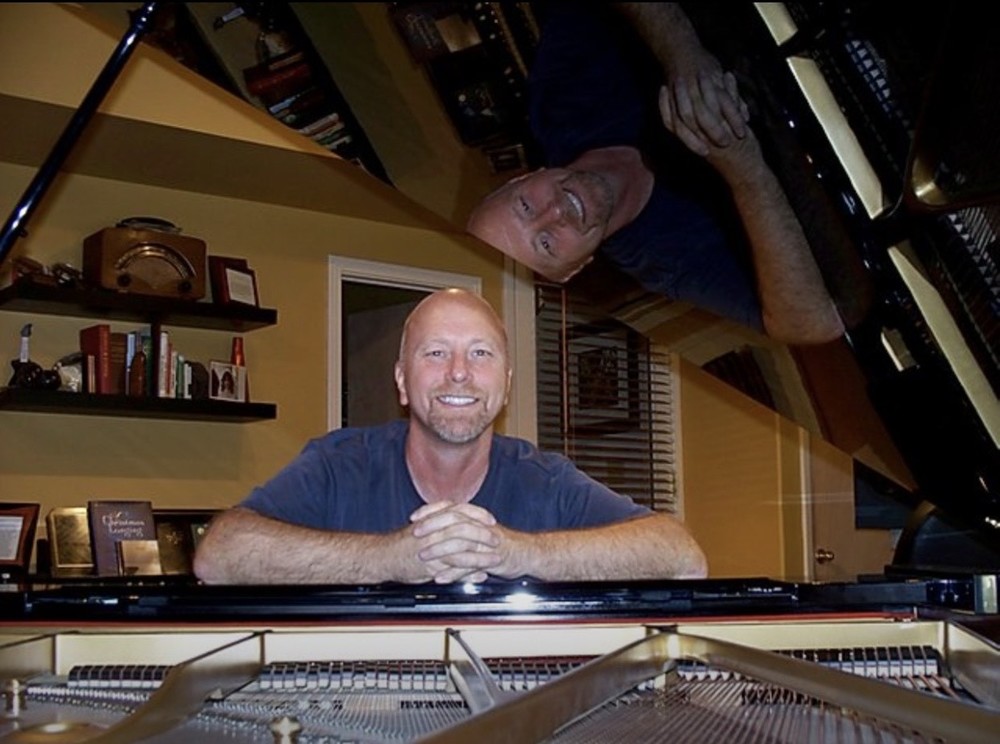 Meet Our Alumni - Larry Hall!
Hilary Mathis
Monday, April 20, 2020
Today's interview comes from junior Morgan Miller.
Larry Hall is a veteran composer, arranger, and keyboard player that graduated from BHHS in 1975. Larry has arranged for and played with many artists, as well as creating several solo CDs. He has also scored music for several large projects, including Disney live productions.
Were you involved in any music programs in high school?
Absolutely! I tended to be in the music rooms at every opportunity. I played trombone in the band and sang tenor in the chorus. I also loved marching band, musicals such as "Oklahoma" and a few music appreciation classes. The Music Dept also helped a few friends and I with a rock band that we put together which played at some of the dances and events. We had a lot of fun doing all those things.
Which teacher impacted you most in high school and why?
Undoubtedly that would be James Ping. He was of course the director of the music department for many years and he influenced hundreds of students. He supported not just me, but every student who loved music. He was so tireless. Director of both the band and the chorus, director of the plays and musicals, and administrative champion for the arts. He would teach all day, and then stay into the evening building and painting stage sets for plays or organizing the music library. He was also just a wonderful Christian man and a positive influence of integrity for all students. He could get exasperated by student's shenanigans and gnat-like attention spans, but his dedication to his students and the arts were unending.
I also must mention another teacher - Jane Millikan - who was actually with the elementary and jr high schools. She was incredibly influential in my music development. She taught all of us our first instruments and how to read music. Such a lovely lady with unending patience. To be able to teach students who had never played before requires patience and talents I will never possess!
What has been your favorite piece to arrange?
That's so hard to say. I've arranged hundreds of songs over the years. I've done everything from rock and jazz to classical and American standards. I love arranging hymns. I also love taking a song and putting a different twist on it than you would normally hear. There is almost no style of music that I don't love creating.
One song that stands out is "A Song For You". This song has been recorded hundreds of times by so many artists and was a huge hit for the group The Carpenters in the 70's. It was written by Leon Russell, one of the most iconic artists and writers in rock and roll history. A couple years ago, I met Leon and ended up orchestrating what would be his final record. In addition to many new songs, we recorded his final versions of "A Song For You" and "This Masquerade" - another huge classic hit of his. The opportunity to work on those songs with Leon just a few months before his passing will always be a highlight of my career.
What kinds of things inspire your music the most?
Certainly my faith as a Christian has been a huge part of my music. I first moved to Nashville years ago to work with a major Christian artist, so many of the folks I've met through the years and worked for have been involved in Christian Music.
Otherwise, I'd have to say that music itself is the inspiration. The fact that 12 notes can be arranged in infinite ways just fascinates me. It can create countless moods and trigger any emotion. It can stir memories, give comfort, cause angst, joy, sadness, on and on. Just 12 notes! Those 12 notes have to be one of God's greatest creations.
What advice do you have for people entering this field of work?
Haha, probably the first piece of advice would be the same as my dad had for me - "have something you can fall back on". The competition in music is fierce as far as making it your sole career and the odds are against you. I spent many years doing carpentry and house painting as I was working toward a music career before I was able to do it full time.
The second thing I would say is to show up! By that I mean to have an attitude and work ethic that will make others want to be around you. Be the first to get there and the last to leave. Smile always. When the producer says, "can you stay an extra 30 minutes?", you say "YES!" with a smile and not a grudging attitude. If I'm putting a session together, there are dozens of musicians I can choose from. But the ones I hire are always the folks I enjoying being around. They're all great players, but life is too short to work with people who drag everyone down around them.
Third, be honest about your abilities, but more importantly have confidence in them. While I don't believe in the "fake it till you make it" idea, I do believe there is value in saying "yes I can do that" and then you go home and figure out how to do it! Always be expanding your skill sets no matter your success or age. I still learn new things every day and plan to continue to do so.