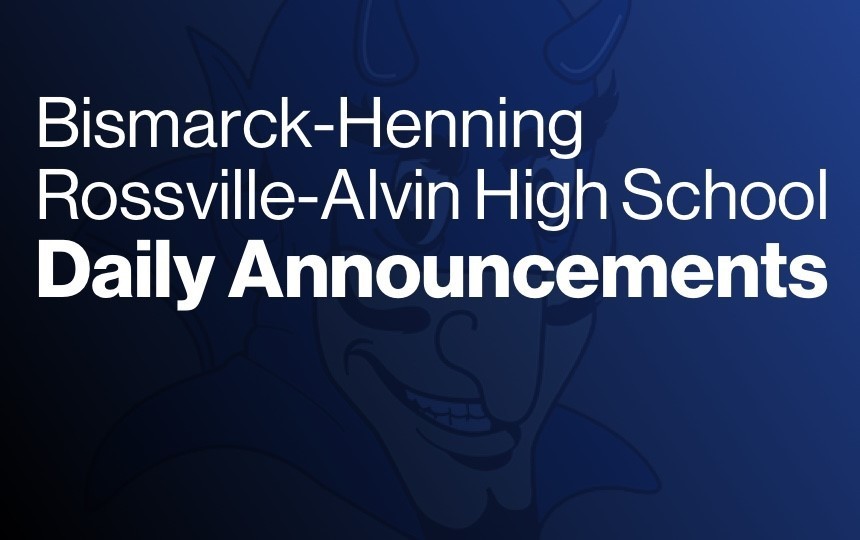 2020-09-18 BHRA Announcements
Jenny Huffman
Friday, September 18, 2020
Bismarck-Henning Rossville-Alvin Cooperative High School Daily Announcements Friday, September 18th, 2020
Announcements:
Blue Devils Give Back
The Blue Devils are giving back by holding a food drive Monday, September 21st - Wednesday September 30th. Students: Bring in food and receive a ticket to write your name on and drop in the bucket to win some fun prizes. Food donations will be donated to Bismarck Blessings and the Bismarck United Methodist Church Food Pantry. See the attached flyer for needed items.
Spanish Tutoring
Do you need help in Spanish Class? There are times available for you to get extra help. 2nd hour: Señorita Kitchens, 7th hour: Señora Frerichs in her classroom, 8th hour: Señora Frerichs in the library. We are looking for Spanish 3 or 4 students who are willing to be tutors during their study hall. See Señorita or Señora if you are available to tutor.
From Nurse Kelly
If you have had your 9th grade physical or your 12th grade MCV shot, please bring a copy to the nurse's office.
QR Codes
Please make sure you have the ability to read QR codes set up on your Chromebook. Mrs. Gray shows you how to do that here.
From Mrs. Stephens
Juniors and Seniors - U of I Springfield has set up a virtual meeting for BHRA juniors and seniors Sept. 18th (remote learning day) at 11:30. Take advantage of this opportunity to learn more about admission to UIS and what programs/opportunities they offer. This will be a meeting for BHRA students only.

Zoom Session with Admissions Counselor Carly Leffel - Join Zoom Meeting

Meeting ID: 929 7179 3950

Password: 502497
Contacts:
Office Staff:
Please feel free to email us if we can help you with anything. You can also call the office at 217-759-7291. If we don't answer, please leave us a message.
Nurse Kelly (kstrader@bismarck.k12.il.us) Social Worker (Ms. Wilt - wiltt@vase.k12.il.us)
Guidance Counselor (Mrs. Stephens - mstephens@bismarck.k12.il.us)
Links:
Here's What's Coming:
09-19-20 - TBD - Cross Country @ Decatur St. Teresa

09-19-20 - 8:30am - Varsity Golf - Paris Invitational

09-25-20 - Progress Reports

10-02-20 - E-Learning Day 8am-11am

10-09-20 - No School - Fall Institute

10-12-20 - No School - Columbus Day

10-14-20 - SAT

10-16-20 - Semester Midterm

10-21-20 - Progress Reports

10-21-20 - P/T Conferences 4pm-8pm

10-22-20 - P/T Conferences 4pm-8pm

10-23-20 - No School

10-27-20 - Tues - Picture Retakes - inter-state.com/order - Code 51357HA

02-12-21 - Senior Pictures due to Mrs. Stephens