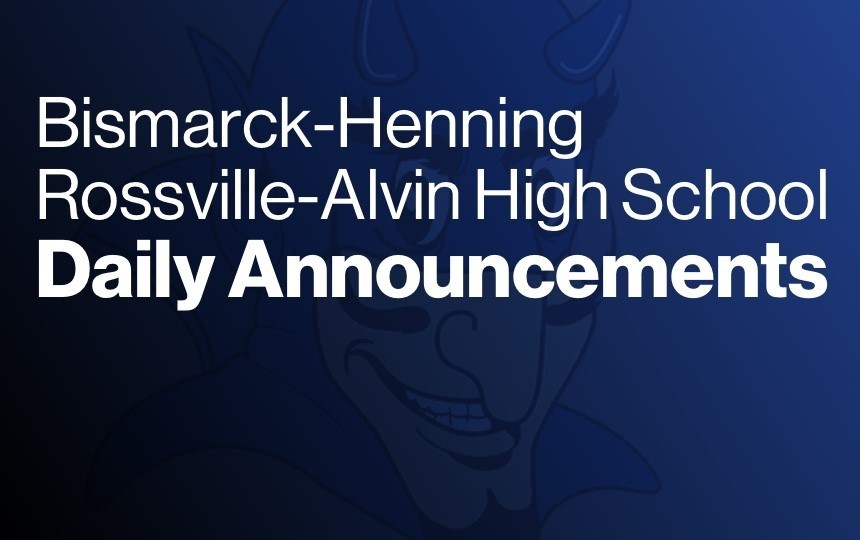 2020-09-14 BHRA Announcements
Jenny Huffman
Monday, September 14, 2020
Bismarck-Henning Rossville-Alvin Cooperative High School Daily Announcements Monday, September 14th, 2020
Announcements:
Picture Day
Order online at inter-state.com/order using code 51357HA

Picture Day is TOMORROW (Tuesday 9/15) - Here is the schedule:

7:15-7:45 - Staff - Report to Wilcox Lobby

7:45-8:20 - Remote Learners

Enter at Wilcox Lobby doors

Only the students will be allowed in the building

Parents need to login to Teacherease and do the COVID screening on the student BEFORE the student arrives for pictures

8:20 until finished - In-School students will be called down by last name beginning with Seniors.

Retake date is Tuesday, October 27th
Class Officers
Are you interested in being a BHRA class officer? Click here to fill out a form letting your class sponsors know that you want to be an officer. This does not guarantee a position, we will still be voting. Today is the last day to sign up!
E-Learning Days
Friday is our first e-learning day. Students will not be in the building, but attending class remotely from 8am-11am. Each class will be different, so be sure to check your classes and with your teachers to see if you need to be LIVE online at any specific time.

Students will also need to login to www.teacherease.com and check-in for the day to be counted PRESENT for the day. If you do not login to Teacherease, it will count as an absence.

Need access to your student Teacherease account? Reply to this email and Jenny will send you a link.
Blue Devil Thursday
THURSDAY - September 17th is Blue Devils Spirit Day! Wear your blue & white to show your school spirit!

A school spirit poster contest will be happening with a gift card prize! Stop in the office to grab a piece of poster board! Posters should be turned in to the office or Mrs. Tidwell by Wednesday 9/16. (Make sure your name is on the back!)
Athletics
Any student who would like to be involved in scrimmages during fall contact days for sports not in season needs to have this form filled out and signed by their parents. COVID Scrimmage Form Please turn the completed form into your coach, Mr. Johnson, or the office.
Lunches
Per USDA guidelines, the Illinois State Board of Education has announced that all students are eligible to receive free lunch daily through December 31, 2020. This includes all in-person and remote students. Starting Thursday, September 10, 2020 all meals will be free.

If there is a negative balance on your student's lunch account, now's a great time to get that taken care of.

Remote Learners - See the email from Jenny sent on Wednesday 9/9 for more information about the school lunches.
Chromebook Tech Tips
Check out this week's Chromebook Tech Tip from Mrs. Story! Tech Tip Video - Mrs. Story

Hey BHRA Students -Today's tip of the day is what to do when you have any problems with your chromebook. If you are at school and notice your chromebook is almost dead, bring it to the library and drop it off to be charged. You'll be given a loaner chromebook to use for a couple of hours. If you have a problem with your chromebook, you can bring it to the library during 8th hour for Ms. Mathis to look at it. If you aren't able to come in then or your chromebook quits working, bring it into the library and drop it off to be looked at, and you will be given a loaner chromebook to use.
Contacts:
Office Staff:
Please feel free to email us if we can help you with anything. You can also call the office at 217-759-7291. If we don't answer, please leave us a message.
Nurse Kelly (kstrader@bismarck.k12.il.us) Social Worker (Ms. Wilt - wiltt@vase.k12.il.us)
Guidance Counselor (Mrs. Stephens - mstephens@bismarck.k12.il.us)
Links:
Here's What's Coming:
09-14-20 - 4:00pm - Varsity Golf @ Harrison Park vs Salt Fork & Westville

09-15-20 - 4:30pm - Cross Country @ Unity High School

09-15-20 - Tues - PICTURE DAY - inter-state.com/order - Code 51357HA

09-16-20 - 4:00pm - Varsity Golf @ Harrison Park vs Mahomet-Seymour & Urbana High School

09-17-20 - 4:00pm - Varsity Golf @ Harrison Park vs Schlarman

09-18-20 - E-Learning Day 8am-11am

09-18-20 - TBD - Varsity Golf @ Hoopeston Area High School

09-19-20 - TBD - Cross Country @ Decatur St. Teresa

09-19-20 - 8:30am - Varsity Golf - Paris Invitational

09-25-20 - Progress Reports

10-02-20 - E-Learning Day 8am-11am

10-09-20 - No School - Fall Institute

10-12-20 - No School - Columbus Day

10-14-20 - SAT

10-16-20 - Semester Midterm

10-21-20 - Progress Reports

10-21-20 - P/T Conferences 4pm-8pm

10-22-20 - P/T Conferences 4pm-8pm

10-23-20 - No School

10-27-20 - Tues - Picture Retakes